Photo-realistic 3D Floor Plan Rendering and Modeling Services
We offer high-quality 3D floor plan services with in-depth and life-like modeling and rendering. A well-defined and impactful floor plan is crucial to have a clear idea of interior appearance and the final result or product. Our 3D floor plan rendering services help you achieve your architectural vision and transform it into reality through visualization in a real-life spatial profile.
Architects, realtors, property developers, and architectural firms using legacy architectural drawing sets in 2D often fail to showcase the overall layout, lack clarity, and visualization, and are unappealing to clients.
We understand that the inability to visualize or measure interior components like carpet area, furniture, stairs, bathroom fittings, etc. with life-like materials, colors, textures, and lighting can create ambiguities during actual construction or renovation.
Get customized 3D floor plans for your projects »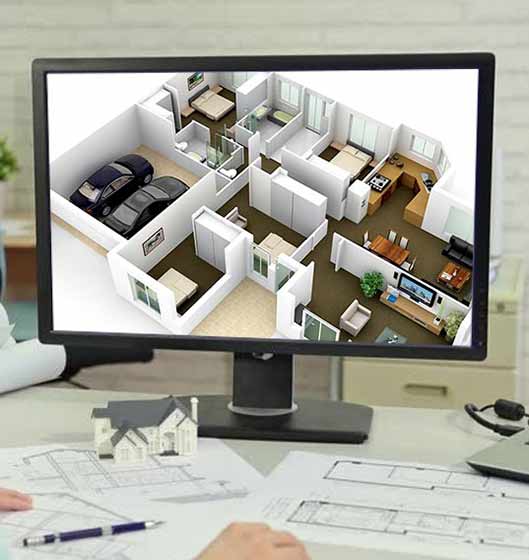 High-quality Building Designs with 3D Floor Plan Rendering Services
Our photo-realistic 3D floor plans modeling and rendering services ensure better viewing convenience and better decision-making with accurate 3D representation for all disciplines.
Our 3D floor plan rendering services include creations of 3D house floor plans visuals that speak a thousand words. We utilize cutting-edge 3D modeling tools with enriched workflows to communicate clear design intent.
Creating floor plans for every project type and complexity in high resolution makes viewing detailed and interactive. Viewing floor plan renders from every angle augments layout understanding, captures the viewer's attention, and helps you easily convey the design to end users to visualize movement patterns.
We offer 3D floor plan rendering services to clients in the USA, UK, Canada, Europe, Australia, and the Middle East.
Our range of 3D floor plan rendering services include:
Sketches or CAD Conversion to 3D Floor Plans
Detailed floor plans from CAD files, client sketches, images or photographs as per client and project needs.
Interior Component Modeling
Illustrated details and placement of chimneys, fireplaces, stairs, doors, windows, plumbing fitting and entry and exit points.
Isometric Plans
Full-color representations of home interiors through isometric floor plans. Furniture plans, site plans, reflected ceiling plans, roof plans with real-life materials, textures, colors, and fabric.
Bathroom Fittings
3D Modeling and placement of bathroom equipment like bathroom fittings for greater visualization.
Layout Creation in 3D
Layouts in 3D space to measure carpet area and height and wall measurements for every room with clean line work and framing details.
Exterior Modeling
Exterior space modeling for structures like pools, garage areas, parks, parking spaces, lawns, and corridors with precise dimensions.
Site Plans
Accurate 3D site plans for better visual project impact of landscape design, waste management planning, urban planning, as well as environmental impact.
Furniture and Kitchen Equipment Positioning
Accurate and real-life layout to place room and kitchen furniture components in a 3D profile.
What our
Clients

Say

– Project Manager, Architectural Firm, USA
VR- ready 3D floor plans for real-time user experience
Our team of 3D modeling experts works closely with architects, interior designers, contractors, builders, and engineers to create a realistic depiction of your floor plans. We help clients facilitate faster buying decisions for the buyer through necessary comparisons of location, neighborhoods, or existing buildings.
3D floor plan modeling and rendering with a powerful site of tools like Revit® Architecture, Mudbox, V-ray, and 3ds Max® enables clients to finalize floor plans in advance leading to cost and resource savings.
We offer spatially accurate and VR-ready 3D models with ultra-realistic depictions in a VR environment supported with walkthroughs and observation of the minutest details in 3D space. 75+ architects and designers with 25+ years of experience and 51+ countries served makes TrueCADD a truly iconic outsourcing partner for 3D Floor Planning and Rendering services.
Why you should outsource 3D Floor Plan Rendering Services to us?
3D floor plan rendering and modeling provides dimensional accuracy for each room and space flows through the entire structure. Planning rooms becomes easy with entry and exit points. With an experience of over 20+ years, clients worldwide have outsourced their projects to us to gain cost-effective, photorealistic, and top-quality architectural 3D floor plans.
Customized high-quality and error-free 3D floor plans with rendering
Quick turnaround with best-in-class software and certified experts to deliver FTR deliverables
Detect design flaws at an early stage
24/7 support for all project related issues
Cost-effective solutions to reduce overhead costs and increase sales
Streamlined processes with detailed and high-quality end products for marketing and presentation purposes
Reduce design redundancies or rework
Guaranteed customer satisfaction
3D Floor Plan Rendering Services for various sectors
Residential, Commercial, Office Buildings
Space Planning / Interiors
Top FAQ's on 3D Floor Plan Rendering Services
What are 3D Floor Plans?
A 3D Floor Plan refers to a ground plan for exterior and interior property using multiple views. 3D Floor plans are created for improved representation and clarity.
What are the elements included in a 3D Floor Plan?
A 3D Floor Plan consists of elements including interior walls, doors, windows, and other related interior objects with proper illustrations of furniture, materials, and colors.
Why should we use your 3D Floor Plan services for our projects?
Using our 3D Floor Plan modeling and rendering services ensures greater space visualization reinforced by consistency in design. Accurate 3D models make construction or renovation more efficient and error-free. Leveraging a live model for a floor setup encourages precise element placement. This helps save time, money, and materials. 3D Floor Plan modeling and rendering can support clients with greater buyer, investor, developer, or tenant engagement.
What is the difference between a 3D and 2D Floor Plan?
A 3D Floor Plan provides greater realism for clients in comparison to its 2D counterparts. 3D Floor Plans constitute a myriad of purposes including visualization, space flows, materials, colors, real-life building elements, etc. whereas 2D Floor plans are utilized to assess property size.
As a client what do I need to provide as input?
We would require your 2D floor plan in the form of a CAD file, PDF File, or hand-drawn sketch. Furthermore, we would require specifications on colors, textures, finishes, materials, etc.
How much would a 3D Floor plan cost me?
Prices would vary on the type of services required or customized solutions required for your project. Contact us to get a quick quote.
How do you model and render a 3D Floor Plan?
Modeling and rendering a 3D Floor plan requires analysis of client needs. After a thorough assessment of the requirements, our teams use the best possible processes and tools to model the products. Our teams use the most advanced software to create and render floor plans with minute details.
Who can use our 3D Floor Plan rendering services?
Our Floor Plan modeling and rendering services can be used by Architects, Architectural companies, Real-estate firms, interior designers, design companies, developers, building contractors, renovation contractors, and homeowners.
How can we use TrueCADD's 3D floor plan rendering services?
Input provided by the client including CAD, PNG, JPG, GIF, or PDF files with specific information, the function of each space, and layout preferences are factored in to begin the process. We can provide optimum guidelines on proposals, layouts, furniture, and other indoor and exterior components taking into account your needs. We would create a single floor plan for each floor.