Architectural 3D modeling services for improved design intent
As one of the leading architectural 3D modeling company, we specialize in converting 2D designs, plans, and sketches into high-quality 3D BIM models for 360-degree visualization. We support architectural design teams and firms to gain a clear project understanding through visualization, save time and cost, improve collaboration, and get quick client approvals for projects with high-quality 3D models, rendering and walkthroughs.
Architects, designers, engineers and real estate firms require strong presentation modes to present thoughts and ideas in an impactful manner. Our customized architectural 2D to 3D modeling services enable you to gain enhanced visualization and detect design errors in the pre-construction stage.
Outsource your architectural 3D modeling needs »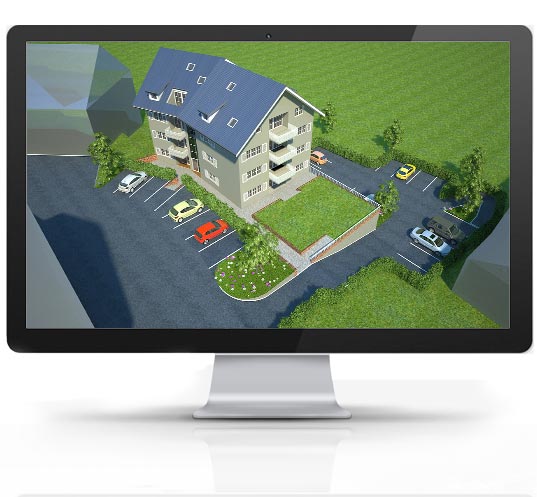 Architectural 3D modeling for enhanced building visualization
We provide end-to-end architectural 3D modeling services for all disciplines with a team of highly skilled architects, 3D artists, interior designers, and 3D visualizers. Using real-time 3D rendering and realistic visualization support with BIM tools like Revit® Architecture, Mudbox, 3Ds Max®, and V-ray, we create high-quality architectural 3D models with interior rendering and exterior 3D visualization.
Whether clients are looking for 3D architectural models for design, planning, or marketing, our team produces what is needed and essential. Our architectural 3D design and drafting services reduce errors, lower complexities, cut costs, save time, and encourage faster project execution.
We have successfully delivered high-quality architectural models to our partners in the USA, UK, Canada, Europe, Australia, and the Middle East.
Our 3D architectural modeling service offerings
3D Interior and Exterior Modeling
Accurate and data-rich 3D models for interiors and exteriors with detailed elevations, lighting, and textures based on 2D sketches.
Low Poly 3D Modeling
Low Poly 3D modeling, rendering, and walkthroughs for greater model emphasis, efficiency, and simplicity.
Custom Furniture modeling
High-quality 3D models for furniture sets for furniture designers and manufactures to market and increase sales.
BIM Family Content Creation
Architectural Revit Family content creation and multiple detailing levels as per client or project requirements.
3D Object Modeling
High quality object modeling of various showpieces, lighting fixtures, decorative items, gaming models etc.
Landscape 3D Modeling
3D architectural landscaping solutions with creative 3D visuals and outstanding presentation quality for marketing purposes.
Scan to BIM Modeling
Point Cloud to BIM as-Built models for renovations, FM, retrofits, building maintenance, and refurbishment.
Facade Modeling
BIM models for building facades with high level of detailing and joinery for residential and commercial projects.
What our
Clients

Say

– Founder & owner, Technology Consultancy for AEC industry, USA
3D architectural services for better planning, design, and visualization
Our 3D building models deliver a comprehensive overview of the actual architecture in digital space before construction begins.
Combining complex modeling methods with renders, architectural visualization, space utilization, 3D product visualization, and product rendering, we create the best-in-class 3D architectural modeling results that drive a visual impact.
Advantages of outsourcing architectural 3D modeling services to us:
High-impact 3D architectural visualization models to communicate the right design intent
3D architectural modeling and rendering solutions as per customers' requirements
Texturing with color, textures, materials, shapes, and sizes as per project needs
24/7 assistance of 3D artists, visualizers, and professional architectural drafters
Skilled, trained and Autodesk® certified team of over 75+ BIM experts, architects and engineers
Hassle-free construction with team-wide coordination of 3D models and clash detection
High-quality details in 3D renders and walkthroughs enriched with data precision
Knowledge of internationally accepted architectural BIM standards and codes
3D architectural modeling services for various sectors
Residential, Commercial, Office Buildings
Space Planning / Interiors