Optimize project predictability with accurate quantity takeoffs
An accurate quantity takeoff translates into precise scheduling and cost estimation. This makes it extremely crucial to conduct a comprehensive quantity take off through detailed analysis of each element of BIM geometry.
At TrueCADD, we make material costing easier, faster and more accurate by generating error free quantity takeoffs. Our BIM services include creating high precision models to generate BOQs in customized formats.
Our BIM specialists generate quantities for architectural, structural and MEP disciplines with synchronized and comprehensive project views. We empower architects, engineers, quantity surveyors and contractors to take informed decisions with a real-time view of the project advancement and decide on material order quantity.
Schedule a call with our BIM specialists NOW →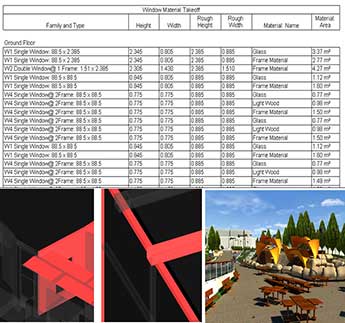 Our quantity takeoff services include:
Accurate BIM quantity takeoff

Error free quantity takeoff for exact schedules for all phases of construction.

Integrated model design

Multiple model component integration to generate accurate costs and takeoffs.

Parametric and dynamic cost attribution

Dynamic cost attribution based on changes in the BIM model.
Real-time cost design

Enhanced project efficiency and error reduction based on accurate BIM modelling.

Precise BOM's and BOQ's

Ease of extraction and validation of BOM's and BOQ's through customization.

Optimized models for effective project execution

Detailed models to help lower project lifecycles and reduce material costs.
Our expertise and experience in BIM takeoff services includes building comprehensive 3D BIM models for complex structures such as airports, healthcare, resorts and recreational buildings.
How quantity takeoffs profit project cost assessment
Quickly review building designs.
Calculate exact quantities.
Integrate quantity take off with cost estimation & scheduling to gain higher efficiency.
Create better project handover.
Improve quality of BIM Models.
Effectively communicate with clients, project managers, contractors, subcontractors etc.
We help holistic construction firms to attain high value proposition for building construction projects with 5D BIM modeling services.
Benefits of outsourcing your quantity takeoffs to us:
Extraction of precise project information at every phase of construction.
Creation of information-rich Revit® BIM libraries for products as per client specifications.
Cost planning based on correct quantity takeoffs.
Building As-Built models with LOD 500 to accurately plan material orders.
Exact procurement and purchase of prefabricated building components.
Risk mitigation with early clash-detection.
What our
Clients

Say

– National BIM Manager, Leading Retirement Village New Zealand
We cater to various BIM sectors