Revit MEP 3D Modeling Services for improved building visualization
We offer precise MEP 3D modeling services to reduce risks, inconsistencies in MEP design, and low-quality construction. Our team of MEP experts understand that lack of coordination, data gaps, and absence of project visualization between MEP disciplines can lead to inaccurate fabrication and erroneous installation of MEPF components.
We offer MEP designers and consultants, specialty contractors, manufacturers, fabricators, MEP installers, and engineers, best-in-class 3D MEP modeling for simple to complex projects. We utilize Revit® MEP, Navisworks®, to create and audit accurate and information-rich 3D models and drawings reinforced by international standards and codes.
Our MEP experts excel in coordinating MEP components within 3D MEP models with early clash identification and resolution in the preconstruction stage, helping you to eliminate rework and fuel error-free onsite construction.
Contact our team TODAY »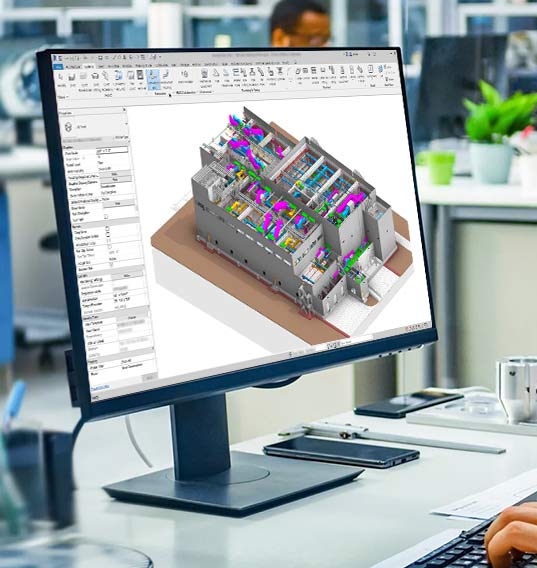 Customized MEP Revit Modeling solutions
Our accurate and standardized MEP Revit models offer detailed MEP modeling through complete MEP coordination and clash detection, shop drawings, assembly drawings, schematic drawings, and Revit MEP content creation. We ensure BIM model compliance as per standards like COBie, NBS, RIBA, and ISO at various levels of detail including LOD 100 – LOD 500. Our team of 3D MEP modeling experts ensures clients achieve a competitive edge and project needs are met with top-notch Revit MEP services.
We offer Revit MEP 3D modeling services to various clients in the USA, UK, Australia, Canada, Europe, and the Middle East.
Our 3D BIM MEP modeling service offerings
Mechanical/HVAC 3D modeling
HVAC Duct, and Piping modeling
Coordination and collision detection
Clash reports in Navisworks
Shop, Spool, and Fabrication drawings
Revit library creation
Schematics, schedules for HVAC systems
Plumbing 3D modeling
Domestic and natural gas piping modeling
Drainage water pipe modeling
Spool and shop drawings
Penetration drawings
Isometric and sectional drawings
Modeling of pipes, bathrooms, and drainage systems.
Electrical 3D modeling
Coordination drawings, riser modeling, cable tray layout, switchboards
Coordination and detection
Clash reports in Navisworks
Electrical site plans, lighting plans
BIM content creation for electrical components
Fire Protection 3D modeling
Accurate 3D fire protection modeling for sprinklers, valves, pressure gauges
Construction drawings for the location of fire hoses and water outlets
Coordinated 2D drawings for fire protection, fire alarm, & fire extinguishing equipment
Quantity Takeoff
Precise and detailed Quantity takeoffs extracted from coordinated and clash-free 3D models
Accurate budgets and cost estimates for MEP systems
Accurate schedules and integrate them within shop drawings
Revit Family Creation
Customized Revit families for various Mechanical, Electrical, Plumbing and Fire protection components
Revit family creation for MEP equipment such as AHUs, diffusers, hangers, lighting fixtures, closets, pumps, and fire protection equipment
What our
Clients

Say

– CEO, MEP Consultancy, UK
High-Quality Revit MEPF 3D modeling solutions
Outsourcing Revit MEP modeling services to us ensures complete scalability, reliability, and precision for our clients. Our team of highly skilled, Revit MEP certified professionals, with 25+ years of experience, creates accurate and detailed 3D MEP models as per your project needs. We have successfully completed 100+ MEP projects across 51+ countries.
We pride ourselves in delivering best in class MEP BIM 3D modeling driven by quality, experience, reliability, proficiency, and operational efficiency.
Benefits of outsourcing 3D MEP BIM modeling service needs
Accuracy in MEP layouts, building documents, and details
Early identification and resolution of soft and hard clashes
Generate accurate BOMs, quantity estimates, and costs
Quick project turnaround, lower risks, greater efficiency, and elimination of cost overruns
Code compliance and specifications enriched with modeling ease
Customized 3D MEP models built as per required LOD
Accurate 3D MEP models to minimize rework and project delays
Simple, transparent, and easy-to-understand drawings and layouts
Process and software sophistication with tools like Revit® MEP, Navisworks®, and AutoCAD®
Quick analysis of building systems for informed decision-making
We offer 3D MEP Modeling services to various sectors
Hospitals & Quarantine Facilities
Underground Infrastructural Utilities
Retail & Commercial Complexes