Our proven BIM coordination and collaboration capabilities
We offer high-precision BIM coordination services to a global clientele. Our spatial coordination drawings are built for architects, contractors, engineers, construction project managers, and sub-contractors for construction and engineering projects. With our clash-free federated models, you save on time and cost.
Our company understands the importance of a well-coordinated project to analyze and resolve clashes and augment reviews as well. Our suite of BIM coordination services includes BIM clash detection, constructability reviews and online BIM coordination meetings.
Outsource your BIM coordination requirements →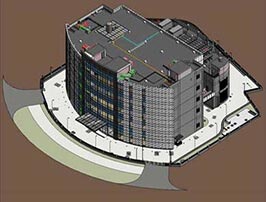 Taking the potential of BIM coordination to the next level
Our company helps you build a BIM coordination ecosystem based on parametric Revit families and Navisworks with material specifications. We help you create error-free 3D coordination models that help identify design errors and propose optimum alternative design solutions.
We are fully capable of handling the coordination phase of any complex project based on project schedules, accurate documentation, RFI's, etc. and integrate it on a Common Data Environment (CDE) for ease of use.
Our 3D BIM coordination and collaboration modeling capability extends toward building risers, plant rooms, prefabricated corridors and ceiling modules for commercial, healthcare, entertainment, education, and mixed-use projects. We let the entire project team leverage coordination and collaboration to identify and resolve interferences/clashes and boost project and stakeholder reviews.
Our suite of Autodesk® software for BIM coordination process includes Revit®, Navisworks®, and BIM 360® to build highly accurate and detailed 3D BIM models across every discipline to ensure there are no member clashes before the project goes on site.
What our
Clients

Say

– National BIM Manager, Leading Retirement Village New Zealand
Benefits of using BIM Coordination Services include:
Quick, accurate and real-time clash detection.
Better constructability based on clash-free design.
Simplified coordination and collaboration on a single platform.
Better trade coordination and change visualization.
Cost and time savings through precise constructability reviews.
Reliable, high quality and efficient BIM coordination.
Why you should partner with TrueCADD?
Our BIM coordination experts ensure that all disciplines including architectural, structural and MEPF create working synergies and coordinate on various checklists like industry standards and design codes.
Our company provides 3D BIM coordination services for building risers, plant rooms, prefabricated corridors and ceiling modules for commercial, healthcare, entertainment, education and mixed-use projects.
Our proven methodology, attention to detail, and deep functional expertise ensures your projects are handed-over within budget, on time, and project deliverables are achieved up to client expectations.
We cater to various BIM sectors