We, at TrueCADD, are experts at rebar detailing and fabrication for improved coordination, communication and information transfer.
Our expertise and experience in providing rebar detailing services that includes detailing, creating shop drawings and fabrication drawings, and estimation enable structural engineers, rebar fabricators, and steel erectors for more productive construction of reinforced concrete structures.
We, as one of the best steel detailers leverage the 3D modeling environment to automate repetitive rebar detailing and documentation tasks, for large civil engineering projects, to derive construction-quality information which further helps in accurate reporting and material handling.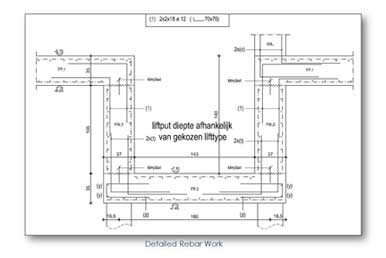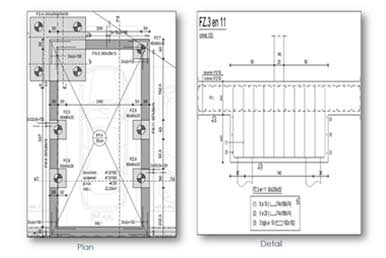 We provide rebar assemblies with 3D visualization services to steel detailers, general contractors, concrete contractors, and designers to make prefabrication and rebar placing on site – effective and efficient.
3D Rebar Detailing
Stringent deadlines and responding to project changes and information requests, results in coordination errors, content mismatch in documents, communication gaps, and inefficient information transfer. This ultimately leads to waste of material and resources, delayed rebar detailing schedule and lower quality of construction documentation.
Our experienced 3D rebar detailers provide efficient reinforcement modeling in 3D to help contractors achieve construction-ready level of accuracy (LOD400) and information rich detailed rebar design and documents for high-rise buildings, schools, power and processing plants, oil & gas, chemical plants and refineries. Transferring data to production teams and exchanging information amongst project stakeholders, ultimately resulting in savings across the project lifecycle.
Our rebar detailers are experts in:
Rebar shop drawings
Rebar 2D & 3D modeling
Bar listing in ASA format
Total rebar estimation
Foundation details
3d modeling of Rebar
Footing detailing
Bar bending schedules
Roof truss and joint details
Concrete masonry detailing
Retaining walls detailing
Quality take-offs & As-built drawings
Rebar Drawings and Schedules
For generating robust reinforcement solutions right from foundation to ceiling of final floor, our skilled rebar detailers prepare shop drawings that provide miniscule details on bends, shapes and lap splices. As a prominent rebar detailing company, we take up the responsibility of providing detailed drawings to help contractors visualize the structures, even before the first piece of rebar is bent or sheered. It also helps them address project constructability issues well in advance and avoid requests for information (RFIs).
Our rebar detailing drawings precisely tell the ironworkers where to place the steel. It eventually reduces errors, reduces the cost of installation and addresses the challenge of storage space at site location.
Rebar Estimation
Our rebar estimating service experts develop rebar detailing and fabrication drawings with necessary quantity takeoffs (QTOs) to aid steel fabricators with accurate order quantity and be on the same page with contractors and builders. Experienced rebar estimators deliver complete services and materials that are required for the project.
As part of our Rebar estimation process we calculate and provide accurate quotes for materials, accessories and erection costs. We ensure that your project runs on minimum costs, and is delivered on time – every time. Our rebar estimators aptly estimate the complete services and materials of large civil engineering projects including highways, bridges, airports and more.
As one of the leading structural steel detailing company specializing in detailing, drawing, and 3D modeling offer rebar detailing services adhering to ASTM, ACI, CRSI, AASHTO, RSIO, BS 8666 to our clients, globally. Our expert 3D rebar detailers detail over 3000 tons of rebar per month, way ahead of rebar detailing companies in USA; and provide solutions to address project constructability challenges.
Contact us to outsource your rebar detailing requirements to us.
Get in Touch!
TrueCADD
Gurukul, Ahmedabad - 380 052.
Gujarat, India
Email: info@truecadd.com