Metal staircase design drawing services as per international standards
TrueCADD's sheet metal fabrication drafting experts combine functionality with engineering design to enable creating staircases that fit perfectly with the structure. We collaborate with design engineers to develop metal staircase fabrication drawings for design intent briefing to manufacturers and general contractors. Our CAD teams develop 2D shop drawings for sheet metal fabrication with detailed calculations, BOMs and 3D sheet metal models for various spiral staircases, multiple landing stairs, and more.
Our metal staircase drawings are developed as per ASIC, TEMA, BS etc. as well as all country-specific standards to meet your requirements. From metal to aluminum, we develop shop drawings for staircases and other accessories as per DFMA guiedlines.
Outsource staircase fabrication drawings development to us →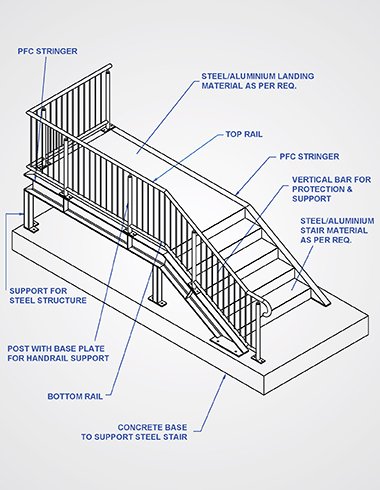 A range of shop drawings and drafting services for metal staircases
From classic monumental stair design concepts to modern staircases, our CAD engineers have the expertise in developing shop drawings for sheet metal fabrication. We develop custom design drawings for different shaped staircases with nesting reports and flat pattern drawings to optimize raw material usage.
We offer drafting services for staircase products and accessories including:
Guardrails
Handrails
Headers and treads
Pan beams
Ship ladders
Free-standing stair towers
Stringers and headers
Posts and bracing
What our
Clients

Say

– Manager Design Group, Building Products Manufacturing Company, USA
Why should you outsource Metal staircase CAD drawing to us
85% engineers certified by AutoCAD®, SolidWorks, Inventor®, etc.
A team of 40+ sheet metal design experts
Well-versed in country-specific drawing and drafting standards
Quick ramp up and ramp down as per project needs
25+ years of offshore engineering design support services
Expert CAD teams lead by experienced quality check specialists