Get balustrade detail drawings to ensure manufacturing as per standards
TrueCADD's well-versed CAD drafters develop custom shop drawings for balustrades to be attached to different types of staircases, balconies, or parapet walls with handrails and guardrails. We take design briefs staircase designs, sketches and paper drawings as inputs to create detailed shop drawings as per standards. Based on your installation site type and location, we develop CAD shop drawings for balustrades that are compliant with global design standards like ANSI, TEMA, ASTM etc.
We aim to reduce material scrap, ensure faster TAT and deliver quality drawings to empower you with seamless fabrication. For this, we leverage parametric CAD modeling with APIs and macros to automate your balustrade designs and comply with standards.
Manufacture quality balustrades with standard shop drawings →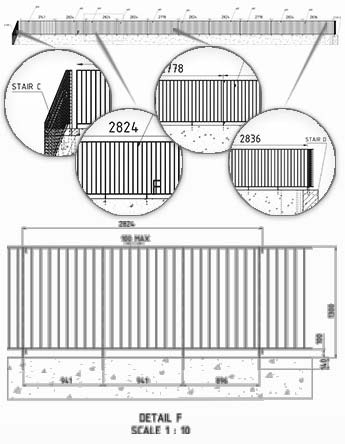 Our CAD drafting services for balustrade fabricators
We have a team of CAD drafters with expertise in developing balustrade drawings that help you fabricate balustrades made of glass, metal, or hybrid materials.
Services we offer under balustrade CAD drafting:
3D CAD modeling of balustrades
2D manufacturing shop drawings with BOMs
DXF files with flat patterns for sheet metal
NC files and CNC files for direct manufacturing
Isometric drawings with exploded views
Converting paper drawings to 2D CAD drawings
Implementing design automation for design customization
Accurate quantity takeoffs for cost estimation
What our
Clients

Say

– Lead Design Engineer, Building Product Design Firm, USA
Why outsource balustrade drafting to TrueCADD
Our 25+ years of experience in handling outsourced projects combined with expert CAD engineers having diversified experience, we offer quick CAD drafting services. When you partner with us, you get:
Use of CAD platforms like AutoCAD®, SolidWorks and Inventor®
Excellence in implementing design automation
Faster turnaround times with flexible teams
Quick ramp up and ramp down of teams as per project needs
Quality assurance to meet client expectations
Security to all your design intelligence
We offer CAD drafting and 3D modeling services for variety of Balustrade
Slim and solid balustrades
Extended balustrades
Stainless steel balustrades
Wooden balustrades
Stone balustrades
Glass balustrades
Polymer balustrades