We deliver steel detailing services for building & industrial construction and structures like bridges, dams and Oil & Gas plants to help contractors, structural engineers, steel erectors and fabricators.
Our Tekla detailing teams partner with general contractors, structural design firms and steel fabricators to develop comprehensive structural steel detailing solutions for high-rise buildings, processing plants (Oil & Gas), industrial steel structures and steel frame construction.
We deliver steel and rebar detailing drawings along with shop drawings and erection drawings to develop a communication link between structural engineer, architects, steel fabricators and other project stakeholders. We have in-house teams of Tekla X-Steel detailing experts specializing in creating steel reinforcement details of onshore and offshore oil rigs.
Our steel detailers have expertise to prepare structural steel detailing drawings for rebar shop drawings, and much more to aid appropriate structure erection for educational complexes, airport terminals, roads and highways, stadiums, museums etc. Also, we have an expertise in delivering steel staircase detailing, ladders and stairs, handrails and guardrails, pipe and racks, etc. amongst other metal building products.
Explore our steel detailing projects: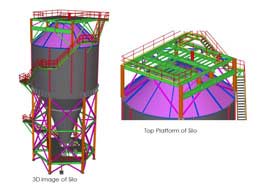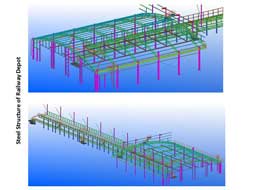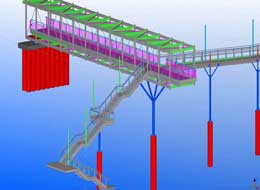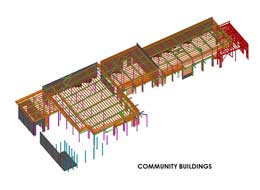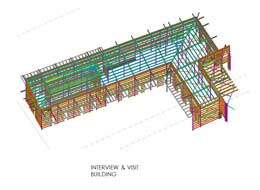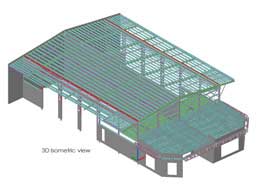 View More Projects →
Our detailing expertise in variety of projects:
Steel detailing for process industry piping
Calculating center of gravity modules
BOMs and Material takeoffs
Anchor setting plans
Shop bolt summary
Steel detailing for I-Beam & H-Beams sections
Column-Beam joints steel detailing
Post-tension detailing
Metal detailing
Concrete-steel joints detailing
Precast and prefabrication joints detailing
Metal roofs and industrial shelter detailing
Steel detailing for hybrid joints
Canopy steel detailing
Pipe racks detailing
Bar joists designs drawings
Deck detailing
Fence detailing
Why choose us as your structural steel detailing partners:
We are a 25+ year's old company based in India delivering structural steel detailing services to overseas clients with the industry leading software competencies. We build long terms relationship with our clients from the USA, UK, Australia, Canada, Europe and the APEC region to deliver empower them in constructing sturdy structures with steel detailing with 99% accuracy.
Our team of Tekla detailers, structural engineers and detailing experts has extensive experience of working with any steel detailing standards be it Euro Codes or AISC or CISC, we deliver the projects as per our clients' needs.
We can help you create information rich plan erection models that can be easily integrated with structural designs and fabrication machinery designs for downstream work. Our steel detailing can easily work with FEED drawings and handle changes easily and attain high quality construction efficiency.
Contact us to get the structural steel detailing for your construction firms with the highest accuracy level at TrueCADD.
Get in Touch!
TrueCADD
Gurukul, Ahmedabad - 380 052.
Gujarat, India
Email: info@truecadd.com