Revit MEP Drafting Services for streamlined documentation
We assist you in creating MEP drawings and BIM coordination for all MEPF trades. Our team of experts specialize in creating MEP drafts and drawings for HVAC piping, ductwork, electrical, plumbing and fire protection services.
We understand the importance of early conflict resolution between building components for quick design reproduction, accurate fabrication of MEP elements and seamless onsite installation. Our MEP drawing and drafting services help you resolve clashes, spatial issues, inaccurate MEP routing, and erroneous cost estimates for your MEPF projects.
We offer state-of-the-art MEP drafting and drawing services reinforced by accurate and detailed information to fuel greater value for MEP designers, consultants, trade contractors, installers, fabricators and engineers. Our Revit® MEP drafting services include MEP conversions from CAD to Revit, mechanical/HVAC drawings, plumbing drawings, and MEP coordination for BIM projects.
Outsource your 3D MEP drawings requirements TODAY »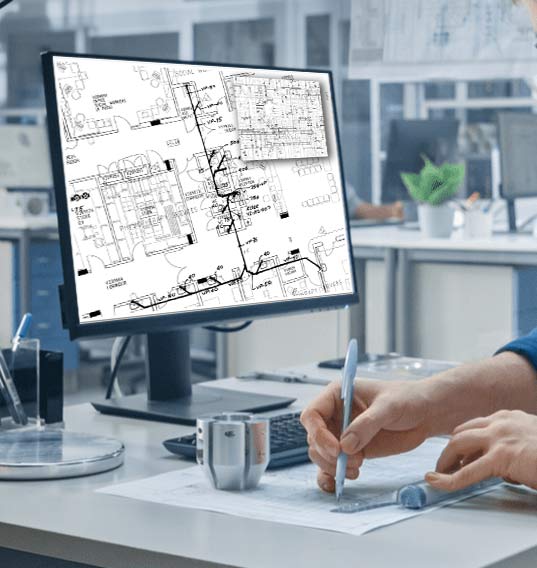 Enhance project delivery with quality Revit MEP drafting services
Our team of experts drafts best-in-class Revit MEP drawings in the early design stages. We build dynamic 3D MEP models through parametric modeling for changes to be reflected across the 3D model. We help you extract 2D MEP drafts from coordinated and clash-free 3D BIM models for accurate fabrication and quick MEP installation.
Our Revit MEP BIM services span a global audience including the UK, USA, Europe, Canada, Australia, and the Middle East.
Our specialization in Revit MEP drafting services includes:
MEP 2D drafting services
Builders work drawings
Coordinated MEP shop drawings
HVAC shop drawings
Plumbing shop drawings
Assembly drawings for prefab and installation
Schematic drawings for basic 3D modeling
Advanced Revit MEP content creation
BIM project/template setup for MEP
Piping spool drawings for fabrication and installation
Revit-based heat load calculation and generation of HVAC layouts
BIM compliance with global standards like Cobie, NBS, RIBA, ISO
Our Revit MEP drafting service offerings
Complete MEP documentation set
We offer precise set of spool, penetration, coordination, isometric, construction, and as-built drawings.
360 degree visualization
We create coordinated and clash-free 3D MEP models for higher concept clarity and visualization.
Fabrication Shop drawings
We create fabrication shop drawings for offsite fabrication with detailed assembly specifications to lower material waste.
Detailed HVAC drafting
We provide detailed schematics for heating as well as cooling systems including plant room layout, and other HVAC systems.
Plumbing system drafting
Plumbing systems with riser diagrams, schedules, schematics, and isometric drawings for water supply, LPG etc.
2D MEP drawings to 3D Model Conversion
We convert your hand-drawn sketches or scanned drafts to accurate MEP CAD deliverables.
Accurate MEP layouts
We develop geometrically and spatially accurate layouts for assembly, fabrication, and piping.
Precise energy analysis
We offer model-based energy analysis for higher energy efficiency and sustainability of MEP equipment based on LEED compliance.
Precise electrical routing
We offer MEP drafting for wiring routing with diagrams & electrical schematics for transformers, & other electrical systems.
Final As-Built documentation
We create As-Built drawings with precise dimensions, locations, and modifications in comparison to the original design.
What our
Clients

Say

– CEO, Technology Consultancy for AEC industry, US
Comprehensive MEP consulting with Revit MEP drafting services
With over 30 Revit MEP certified professionals, 25+ years of experience, 100+ MEP projects, and more than 51 countries served, we use best-in-class processes and software. Our highly experience professionals use Revit® MEP and AutoCAD® to achieve BIM coordination between architectural and structural disciplines.
Our Revit certified experts create coordinated MEP drawings, enabling you to gain informed decision-making, reduce delays and rework along with higher flexibility, greater turnarounds, and lower overhead expenditures.
Our Revit MEP BIM service and MEP 2D drafting services can be utilized for various projects including residential / commercial buildings, train stations and airports, hospitals, hotels and resorts, schools and universities, as well as industrial and gas stations projects.
Benefits of Outsourcing your MEP drafting service needs to us
We understand your outsourcing requirements and create project-specific drafts for 3D MEP equipment for coordination using Revit. We help create an information-rich 3D project profile with greater efficiency for design and engineering teams to optimize building performance.
Clash-free MEP models and drawings
Accurate spatial coordination for MEP equipment
Cost estimates & BOMs for MEP systems
Faster project delivery backed by high-quality deliverables
Higher building performance analysis
Enhanced routing between mechanical and plumbing components
Coordinated construction documentation set
Quick, scalable, flexible, and lower overhead expenses.