High-quality Architectural BIM Services
Our architectural BIM services enable architects and architectural firms with accurate and clear architectural visualizations in the pre-construction stage. In fact, our 3D architectural models support you throughout the entire design and construction process, offering insight into the final design of a building.
As a comprehensive Revit® BIM service provider, our skilled team of architects, designers, and engineers convert CAD drawings, sketches, point cloud scans, PDFs, and other types of data into accurate architectural BIM models.
We offer architectural drafting and 3D modeling, CAD to BIM conversion services, architectural shop drawings, as-built drawings, as well as 4D and 5D BIM for architects, contractors, consultants, builders, and engineers. Our team of 30+ Revit Architecture certified professionals have successfully delivered over 1,000 projects across more than 50 countries.
Connect with a Revit Architecture BIM Specialist »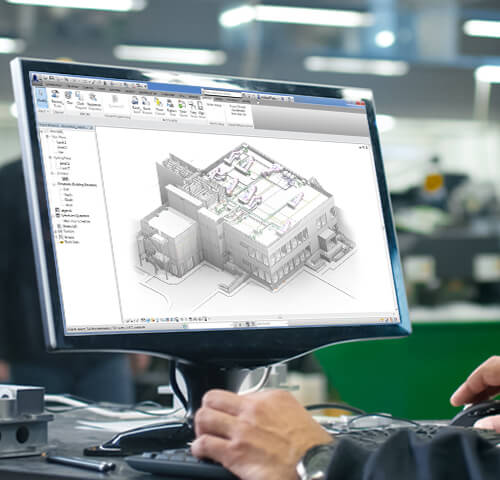 Our Revit Architectural BIM Service Offerings Include:
BIM Coordination
BIM Clash Detection and Resolutions
Architectural Floor Plans, PDFs, and Drawings into Revit 3D models
Point Cloud Scan Data into Architectural BIM Models
As-built Drawings and Shop Drawings Extraction
Architectural Construction Document Set
Revit Families for Architectural Objects, Elements, and Fixtures
Quantity Take-off and Material Take-offs (BOQ & BOM)
4D BIM Scheduling and 5D Cost Estimation
Leading Architectural BIM services provider in India
Our focus is on developing Revit architectural models for each stage of the building process – from the initial schematic design to the final set of construction documents. We ensure that each model meets the specific requirements of the phase it is intended for, so that your project runs smoothly from start to finish.
As an architectural BIM company in India with over 25 years of experience, we deliver accurate and parametric Revit architectural BIM models that meet the client's expectations while providing the required Level of Detail (LOD) from 100-500 as per project specifications.
We utilize proven BIM workflows and tools like Autodesk® Revit to achieve desired architectural BIM standards for design reviews, 3D modeling, project template creation, site development, architectural tender set creation, and other capabilities. We partner with customers located in the USA, UK, Canada, Europe, Australia, and the Middle East.
2D architectural drafting for projects as per required SOW, AutoCAD® standards
Revit 3D BIM modeling with specific elevations, sections, roofs, walls, and doors
Clash-free 4D and 5D BIM modeling for precise scheduling and cost estimation
Revit Family Creation of objects such as furniture, plumbing, and lighting fixtures
Interior/exterior site plan layouts for landscapes, parking, walkways, gardens etc.
Conversion of architectural drawings into accurate BIM execution plans using 3D models
Advantages of BIM Architectural Services
Clash-free and Coordinated BIM Models
We create clash-free and coordinated interdisciplinary 3D Revit models for architectural, structural, and MEPF disciplines.
Project Clarity
Our CAD to Architectural BIM conversion offers greater clarity for building design and enables quicker approvals.
Improved Design Intent
Our services support architects and other stakeholders with greater design control and error reduction.
Reduced Operational Costs
Outsourcing BIM architectural services to us improves documentation, cuts operational costs, and reduces project risks.
HD Rendering and Texturing
Realistic walkthroughs with exterior and interior architectural 3D BIM modeling, rendering, and texturing improve spatial visualization and client communication.
Quick Turnaround
We enable a quick turnaround time and project completion within planned costs for efficient handover.
TrueCADD: A one-stop solution for BIM Architectural Services
As a comprehensive BIM Architectural Service provider, we focus our efforts on processes and tools to develop Revit Architectural 3D models for every building design phase.
We add value for clients through complete architectural BIM modeling support from the design phase to schematic design, design development, and construction documentation.
We offer seamless integration between analysis, design, engineering, construction, and operations for the entire lifecycle of the project.
What our
Clients say
Founder & Owner, Technology Consultancy for AEC industry – USA
Why outsource Architectural BIM services to us
On-time project delivery enriched by global design standards
Scalable and dedicated onshore/offshore resources for Architectural BIM
Risk-free project execution and handover
Customized solutions built for every project and client
Complete data security and client privacy
We cater to various BIM sectors
Space Planning / Interiors
Architectural BIM Services FAQs
Architectural BIM Services are services that use BIM (Building Information Modeling) technology to create detailed and data-rich architectural designs and 3D models. Architectural BIM services include 3D Revit modeling, design development, 4D construction sequencing, clash detection, 5D cost estimation and more. These services enhance collaboration, efficiency, and accuracy in architectural projects.
BIM is of great significance in architectural design as it enables architects in creating accurate and detailed building models. It allows architects to get quick client approvals with enhanced visualization, better collaboration, sustainability analysis, documentation, facility management, and cost optimization, reduces the potential for errors during the design and construction process.
BIM improves architectural design quality by generating information-rich 3D models that enable architects and architectural companies to better visualize the project and make informed decisions regarding design modifications. It can also enhance the coordination of different design elements, reducing clashes and conflicts. BIM empowers architects to deliver higher-quality designs, ensuring accuracy, functionality, and reduced risks for architectural projects.
Architectural BIM services can benefit almost any architectural project including residential, commercial, industrial, mixed use buildings, healthcare facilities, hotels, public infrastructure projects etc.
Yes, BIM can be used for renovation and retrofit projects. Existing conditions can be captured using 3D scanning technologies and then transformed into a 3D BIM model, providing a basis for design modifications. By utilizing BIM, professionals can effectively assess existing conditions, plan changes, optimize designs, and streamline the renovation or retrofit process.
BIM plays a vital role in sustainable architectural design by enabling energy analysis, material assessment, daylighting optimization, water efficiency planning, interdisciplinary collaboration, performance monitoring, and green certifications. It enables architects to analyze various design elements and their impact on energy efficiency, carbon footprint, and other sustainability metrics. Architects can integrate sustainable strategies seamlessly, leading to environmentally responsible and high-performance buildings.
BIM enables collaboration in architectural projects through sharing and updating of information in real-time, improving coordination among all stakeholders, including architects, engineers, contractors, and clients. With centralized information, shared model environments, clash detection, interdisciplinary coordination, design visualization, data sharing, version control, simulations, and remote collaboration, stakeholders can stay on the same page. These features enhance communication, coordination, and efficiency among stakeholders, leading to successful project outcomes.
Popular BIM software for architectural services include Autodesk's Revit, Graphisoft's ArchiCAD, Bentley's MicroStation, and Vectorworks Architect, among others.
Implementing BIM in an architectural firm requires training for staff, investment in BIM software, developing new workflows and processes, and potentially hiring or designating BIM managers to oversee the transition and ongoing operations. Before implementing BIM it is important to assess current processes, provide training, set up software, conduct pilot projects, promote collaboration, and then gradually expand implementation. Once the implementation is done, continuous improvement, evaluation, and staying updated with industry trends is also crucial for successful BIM integration and improved project outcomes.
Implementing Architectural BIM Services may include challenges such as high upfront costs, a steep learning curve for staff, the need to change established workflows, interoperability issues with different software platforms, and data management challenges. Also, resistance to change, legal considerations, collaboration, resource allocation, data security, and industry adoption are some other challenges architectural companies face while implementation of architectural BIM services. The challenges can be overcome by proper planning, training, effective communication, and proactive measures or outsourcing your architectural projects needs to a reliable BIM service provider, to ensure successful BIM implementation.