Customized Architectural BIM Modeling Services
Our architectural BIM services enable architects and architectural firms to gain accurate and clear architectural visualizations in the pre-construction stage. In fact, our 3D architectural models support you throughout the entire design and construction process to provide insight into what the final design of a building will look like.
As an end-to-end Revit® BIM services provider, our skilled team of architects, designers, and engineers convert CAD drawings, sketches, point cloud scan, PDFs, and other types of data into accurate architectural BIM models.
We offer architectural drafting and 3D modeling, CAD to BIM conversion services, architectural shop drawings, and as-built drawings, as well as 4D and 5D BIM for architects, contractors, consultants, builders, and engineers. Our team of 30+ Revit Architecture certified professionals have successfully delivered 1,000+ projects across 51+ countries.
Connect with Revit Architecture BIM Specialist »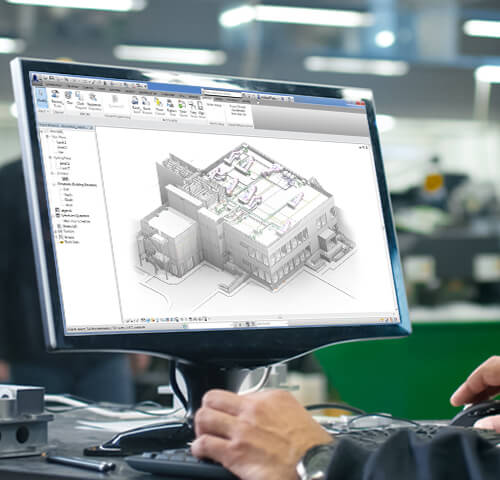 Our Architectural BIM Service Offerings:
Conversion 2D architectural floor plans, pdfs, drawings to Revit 3d models at SD, DD, CD stage
Conversion of drafts or architectural drawings to accurate BIM execution plans using 3D models
Coordinating architectural models with structural, and MEPF designs to create clash-free 3d models
Producing Revit BIM content for furniture products utilized in retail, residential, and shop fittings
Creating 3D, 4D, and 5D BIM models using Revit Architecture and AIA standards
Extracting as-built, shop drawings, floor plans, elevations, ceiling, roof, from 3D models
Creating a complete architectural construction document set and site plan layout
Generating Revit Families for architectural objects, elements and fixtures
Converting point clouds data to information-rich architectural BIM models
Generating accurate BOMs and BOQs for precise material take-offs
Leading Architectural BIM services provider firm in India
Our focus is on developing Revit architectural models for each stage of the building process – from the initial schematic design to the final set of construction documents. We make sure that each model meets the specific requirements of the phase it is intended for, so that your project runs smoothly from start to finish.
As an architectural BIM company with more than 25 years of experience, we deliver accurate and parametric Revit architectural BIM models that meet the client's expectations while providing the required Level of Detail (LOD) 100-500 as per project specifications.
We deploy proven BIM workflows and tools like Autodesk® Revit to achieve desired architectural BIM standards for design reviews, 3D modeling, project template creation, site development, architectural tender set creation, and other capabilities. We partner with customers located in the USA, UK, Canada, Europe, Australia, and the Middle East.
2D architectural drafting for projects as per required SOW, AutoCAD® standards
Revit 3D BIM modeling with specific elevations, sections, roofs, walls, and doors
Clash-free 4D and 5D BIM modeling for precise scheduling and cost estimation
Revit Family Creation of objects such as furniture, plumbing and lighting fixtures
Interior/exterior site plan layouts for landscapes, parking, walkways, gardens etc.
Advantages of BIM Architectural Services
Clash-free and Coordinated BIM Models
We create clash free and coordinated interdisciplinary 3D Revit models for architectural, structural and MEPF disciplines
Project Clarity
Our CAD to Architectural BIM conversion offers greater clarity for building design and enables quicker approvals
Improved Design Intent
Our offerings support architects and other stakeholders with greater design control and reduced errors.
Operational Costs
Outsourcing BIM architectural services with us improves documentation, cuts operational costs, and reduces project risks.
HD Rendering and Texturing
Realistic walkthroughs with exterior and interior architectural 3D BIM modeling, rendering and texturing to improve spatial visualization and client communication.
Quick Turnaround
We enable quick Turnaround time and project completion within planned costs for efficient handover.
TrueCADD: A one-stop solution for BIM Architectural Services
As a comprehensive BIM Architectural Service provider, we focus our efforts on processes and tools to develop Revit Architectural 3D models for every building design phase.
We add value for clients through complete architectural BIM modeling support from the design phase to schematic design, and design development to construction documentation.
We offer seamless integration between analysis, design, engineering, construction, and operations for the entire lifecycle of the project.
What our
Clients say
Founder & Owner, Technology Consultancy for AEC industry – USA
Benefits of outsourcing Architectural BIM services with TrueCADD
On-time project delivery enriched by global design standards
Scalable and dedicated onshore/offshore resources for Architectural BIM
Risk-free project execution and handover
Customized solutions built for every project and client
Complete data security and client privacy
We cater to various BIM sectors
Space Planning / Interiors