Precision for your BIM models with LOD framework 100, 200, 300, 350, 400, 500
Level of development (LOD) is an industry standard that defines various development stages of the construction projects in BIM. LOD augments 3D models through a numerical lexicon to achieve shared understanding among stakeholders for effective and clear communication among disciplines.
With over 25 years of expertise, experience and exposure to the AEC sector, we excel in developing coordinated 3D BIM models in Revit® with LOD similar to detailed Gantt charts that help you stay updated on planned progress v/s actual onsite progress.
Our BIM modeling services include creating accurate 3D clash free models with LOD 100 to 500 to enable architects, engineers, contractors, construction firms, drafters and design consultants to articulate component geometry and information evolution through various project stages. We have successfully implemented BIM projects for various construction firms using Levels of Development from LOD 100 to 500 as per their needs and requirements
Our BIM Level of Development (LOD) adoption as classified by the American Institute of Architects (AIA)
LOD 100: Concept Design

A conceptual model where parameters like area, height, volume, location and orientation are defined.

LOD 200: General Modeling with Schematic Design

A general model where elements are modeled with approximate quantities, size, shape, location and orientation. Non-geometric elements can be embedded with model elements at LOD 200.

LOD 300: Accurate Modeling and Detailed Design

Accurate modeling and shop drawings where elements are defined with specific assemblies, precise quantity, size, shape, location and orientation. Non-geometric elements can be embedded with model elements at LOD 300.

LOD 350: Greater Detail and Construction Documentation

It includes more detail and elements that represent building elements interface with various building systems and other elements with clear graphics and written definitions.

LOD 400: Fabrication and Assembly

Model elements are modeled as specific assemblies, with complete fabrication, assembly and detailed information in addition to precise quantity, size, shape, location and orientation. Non-geometric elements can be embedded with model elements at LOD 400.

LOD 500: As-Built Models

Elements are modeled as constructed assemblies for operations and maintenance. In addition to actual and accurate in size, shape, location, quantity and orientation, non-geometric elements can be embedded with model elements at LOD 500.
BIM LOD 300 Modeling for Public Park as per AIA Standard
TrueCADD developed a clash-free architectural BIM model using AIA standards for a public park in California, USA displaying creativity using LOD 300 in Revit and Navisworks®. The client saved on negative cash flow with accurate BOQ/BOM and reduced rework due to a coordinated error-free BIM model.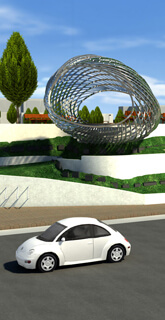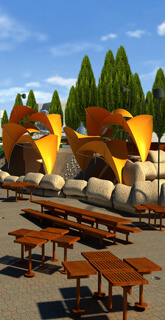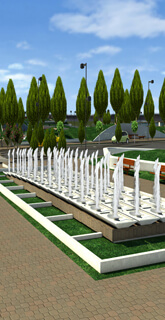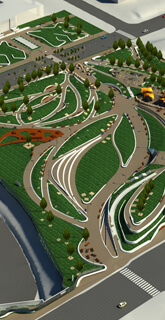 Why Level of Development (LOD) should be adopted for BIM projects?
Revit BIM modeling experts at TrueCADD deliver 3D BIM models that conform to industry LOD specifications including LOD 100 to LOD 500 for enhanced model clarity and detailed design.
Quickly review building designs
Calculate accurate quantities
Create better project handover and establish better communication with subcontractors, fabricators etc.
Integrate quantity takeoff with other applications like cost estimation, scheduling and gain higher efficiency
Level of Development vs Level of Detail
At TrueCADD, we understand that while both level of development and level of detail are abbreviated as LOD, they both mean different things.
The Level of Detail talks about the graphical details that are added to a model. The Level of Development is a measure of gravity of information represented by a BIM element, developed by AIA where development refers to the level of certainty about an object.
For contractors, details like manufacturer and model number are of utmost importance. LOD models created in Revit signify the amount and type of information required by various project stakeholders for specific purposes.
Advantages of outsourcing BIM LOD services to us:
Easily define model utility and reliability
Mitigate 2D workflows for cost savings
Use accurate LOD for high-quality models
Make informed decisions based on accurate quantities
Help design managers identify design intricacies
Set model usability & limitations received by stakeholders
Set inclusion aspects in BIM deliverables with LOD documents
Gain accurate models with quick turnaround time