Level of Development (LOD) in BIM : Detailed Overview
The Level of Development (LOD) is an industry standard that defines the various stages of development in construction projects within BIM. LOD enhances 3D models using a numerical lexicon, fostering a shared understanding among stakeholders for clear and effective communication across disciplines. Dedicated to offering BIM services, we cover LOD 100 to LOD 500, ensuring precision and clarity at every construction projects.
BIM Level of Development (LOD) resolves architectural and construction complexities with a structured approach. At TrueCADD, we deploy LOD within projects to bridge the gap between architects, engineers, contractors, and owners. Driven by collaboration, our LOD approach reduces ambiguities, disputes, and streamlines decision-making to ensure project goals are met.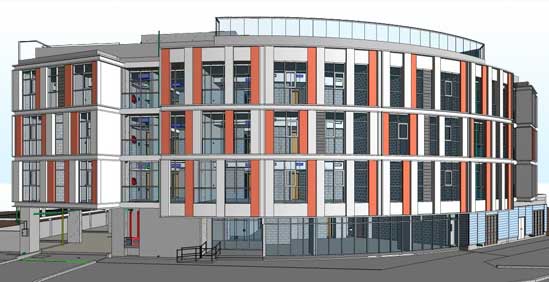 Coordinated Architectural Model at LOD 300 for a Residential Project
TrueCADD converted 2D AutoCAD drawings, PDF files and references sketches into an architectural model at LOD 300 for a residential project in the UAE. The 3D model along with required drawings was coordinated and clash-free and enabled the architectural and engineering consultant to make smarter and informed decisions leading to savings of project time and costs.
Read full case study »
Adoption of BIM Levels of Development (LOD) as Defined by AIA
Professional BIM LOD services to ensure BIM model consistency and reliability throughout the design, construction, and operation phases of a building.

LOD 100: Conceptual Design
At LOD 100 level, we define a conceptual model where parameters such as area, height, volume, location, and orientation are determined.
Analysis and Site Monitoring
Massing studies
Preliminary creation of 3D models
Spatial relationships and zoning compliance
Conceptual design visualization

LOD 200: Schematic Design
At LOD 200 level, elements are modeled with approximate quantities, size, shape, location, and orientation. Non-geometric information can be embedded within model elements at LOD 200.
3D modeling – Form and Layout
Conceptual Design Development
Spatial Coordination and Clash Detection
Initial Energy Analysis
Preliminary Cost Estimation

LOD 300: Design Development
This LOD 300 level involves accurate modeling and detailed shop drawings, where elements are defined with specific assemblies, precise quantity, size, shape, location, and orientation. Non-geometric information can also be embedded within model elements at LOD 300.
Detailed 3D modeling of building components
Accurate placement and sizing of components
Coordination between trades (Architecture, Structural, and MEP)
Complete clash detection and resolution
Quantity Takeoff and Cost Estimation
Comprehensive simulations and energy analysis
Construction logistics and sequencing

LOD 350: Construction Documentation
LOD 350 includes more detail and elements that represent how building elements interface with various building systems. It also provides clear graphics and written definitions.
Detailed 3D models with specific materials and products
Generate construction documents (specifications and drawings)
Coordinate multiple disciplines
Comprehensive cost estimation and  quantity takeoff
Accurate fabrication and assembly
Complete construction sequencing and accurate scheduling

LOD 400: Fabrication and Assembly
At LOD 400 stage, model elements are represented as specific assemblies, complete with fabrication, assembly, and detailed information, in addition to precise quantity, size, shape, location, and orientation. Non-geometric information can be embedded within model elements at LOD 400.
Build 3D models for offsite fabrication
Create shop drawings and fabrication details
Integrate manufacturing processes
Develop component-level information to fabricate components
Plan prefabrication and construction

LOD 500: As-Built
At LOD 500 elements are modeled as constructed assemblies for operations and maintenance. They are accurate in terms of size, shape, location, quantity, and orientation, and non-geometric information can be embedded within model elements at LOD 500.
Build accurate As-Built models to reflect actual construction
Generate detailed information about systems and components
Integrate operations and maintenance data
Perform lifecycle analysis and maintenance planning
Accomplish building performance analysis and monitoring
Guidelines for BIM capabilities at different levels of development (LOD) during project phases
| Model Content | LOD 100 | LOD 200 | LOD 300 | LOD 400 | LOD 500 |
| --- | --- | --- | --- | --- | --- |
| 3D Model-based Coordination | Site level coordination | Major large object coordination | General object-level coordination | Design certainty coordination | N/A |
| 4D Scheduling | Total project construction duration. Phasing of major elements | Time-scaled, ordered appearance of major activities | Time-scaled, ordered appearance of detailed assemblies | Fabrication and assembly detail including construction means and methods (cranes, man-lifts, shoring, etc.) | N/A |
| Cost Estimation | Conceptual cost allowance Example $/sf of floor area, $/hospital bed, $/parking stall, etc. assumptions on future content | Estimated cost based on measurement of the generic element (i.e. generic interior wall) | Estimated cost based on measurement of specific assembly (i.e. specific wall type) | Committed purchase price of specific assembly at buyout | Record cost |
| Program Compliance | Gross departmental areas | Specific room requirements | FF&ampE, casework, utility connections | N/A | N/A |
| Sustainable Materials | LEED strategies | Approximate quantities of materials by LEED categories | Precise quantities of materials with percentages of recycled and/or locally purchased materials | Specific manufacturer selections | Purchase documentation |
| Analysis/Simulation | Strategy and performance criteria based on volumes and areas | Conceptual design based on geometry and assumed system types | Approximate simulation based on specific building assemblies and engineered systems | Precise simulation based on the specific manufacturer and detailed system components | Commissioning and recording of measured performance |
Source: Approved Use Matrix by U.S. General Services Administration
Maximizing Construction Efficiency and Sustainability with Advanced BIM LOD Services
Our team recognizes the repercussions of under-modeling and over-modeling systems and components that could lead to costly rework and delays. BIM LOD supports multiple teams throughout the project lifecycle with improved cost analysis, better resource planning, and greater control. We make sure accurate and in-depth data is integrated into the 3D BIM model for higher sustainability and long-term asset management. The use of BIM LOD optimizes energy efficiency and improves overall building sustainability. Our
BIM modeling services
involve creating accurate, clash-free 3D models with LOD levels ranging from 100 to 500. These models enable architects, engineers, contractors, construction firms, drafters, and design consultants to articulate the evolution of component geometry and information through various project stages. We have successfully implemented BIM projects for various construction firms using Levels of Development from
LOD 100 to 500
, tailored to their needs and requirements.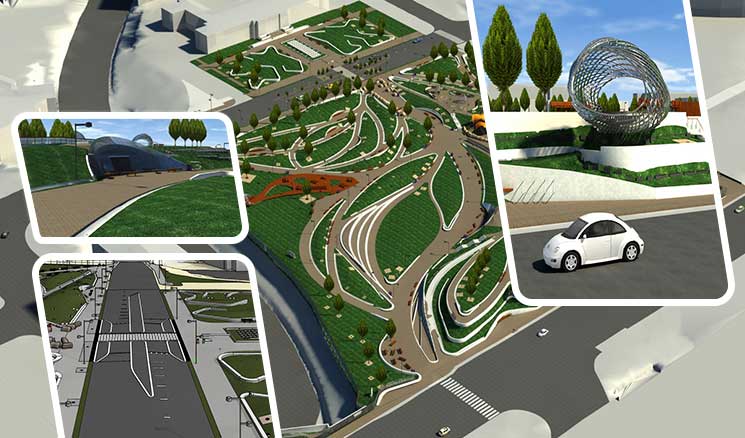 BIM LOD 300 Modeling for a Public Park as per AIA Standard
TrueCADD developed a clash-free architectural BIM model using AIA standards for a public park in California, USA displaying creativity using LOD 300 in Revit and Navisworks®. The client saved on negative cash flow with accurate BOQ/BOM and reduced rework due to a coordinated error-free BIM model.
Read full case study »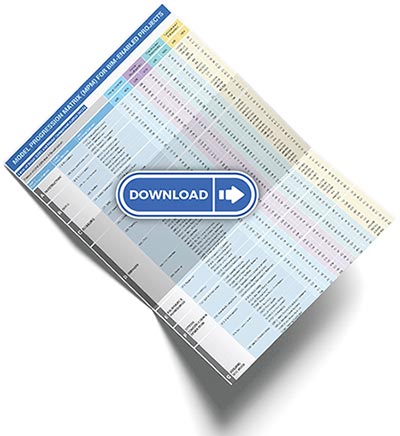 Model Progression Matrix (MPM) for LOD BIM
The Model Progression Matrix (MPM) is prepared to ensure project roles and responsibilities of various teams on BIM projects. A custom MPM is defined based on project size and scope.
Why adopt LOD for BIM Model?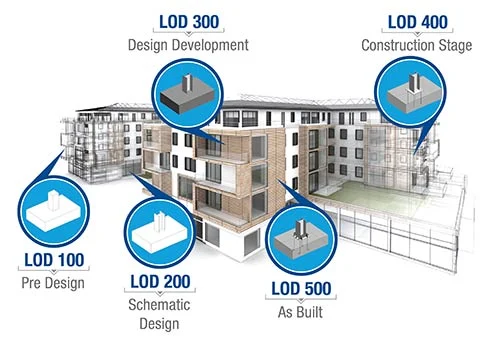 Our Revit BIM modeling experts at TrueCADD deliver 3D BIM models that conform to industry LOD specifications, including LOD 100 to LOD 500, for enhanced model clarity and detailed design. This allows you to:
Review building designs quickly
Calculate accurate quantities for cost savings
Create better project handovers and establish effective communication with subcontractors, fabricators, etc.
Integrate quantity takeoff with other applications like cost estimation, scheduling for higher efficiency
Enhance collaboration between various teams and disciplines for a standardized framework
Improve decision-making at various project stages from concept to facilities management
Mitigate risks by addressing design issues early in the project lifecycle
Ensure sustainability through energy analysis, simulations, and environmental friendly building design
Fuel efficient construction based on detailed information for prefabricated and modular systems
Achieve high Quality Assurance (QA) based on LOD levels through real-world representation of buildings
Level of Development vs Level of Detail (LOD)
At TrueCADD, we distinguish between the Level of Development and the
Level of Detail
, although both are abbreviated as LOD. The Level of Detail concerns the graphical details added to a model, while the Level of Development measures the amount of information represented by a BIM element, as developed by
American Institute of Architects
(AIA). For contractors, details like manufacturer and model number are of utmost importance. LOD models created in Revit signify the amount and type of information required by various project stakeholders for specific purposes.
Benefits of outsourcing BIM LOD services with TrueCADD.
Outsourcing BIM LOD services with TrueCADD reduces costs, improves project efficiency, and ensures precision. Ensure a competitive edge through reliable and high-impact BIM level of development solutions tailored to your needs.
Define model utility and reliability with ease
Mitigate 2D workflows for cost savings
Use accurate LOD for high-quality models
Make informed decisions based on accurate quantities
Help design managers identify design intricacies
Set model usability & limitations received by stakeholders
Set inclusion aspects in BIM deliverables with LOD documents
Gain accurate models with quick turnaround time
BIM Level of Development FAQs
The Level of Development (LOD) in Building Information Modeling (BIM) refers to the degree of detail and reliability of information within BIM elements at different stages of a project. LOD ranges from 100 (conceptual) to 500 (as-built), indicating the evolution of information accuracy. At LOD 100, the focus is on conceptual representation, progressing to LOD 500, where elements are as-built with precise details. This classification ensures clarity in communication and expectations among project stakeholders, guiding the gradual refinement of BIM components throughout the project lifecycle.
LOD in construction stands for Level of Development, representing the degree of detail and accuracy in the modeling of building elements. It ranges from LOD 100 (conceptual) to LOD 500 (as-built). At LOD 100, basic representations are conceptual, progressing to LOD 500 where elements are precisely as-built. This classification is crucial for managing expectations and communication among project stakeholders, ensuring a standardized approach to the evolving accuracy of information throughout the construction process. LOD serves as a vital tool in enhancing collaboration and decision-making by defining the depth of information at different stages of a construction project.
The level of detail (LOD) refers to the degree of intricacy and granularity in representing elements within a model or design. In various fields such as architecture and 3D modeling, LOD categorizes the complexity of objects or scenes. It typically ranges from low to high detail, enabling optimization for different purposes. Low LOD may involve simplified representations for distant views, while high LOD includes intricate details for close-ups. This concept is integral in computer graphics, virtual environments, and simulations, ensuring resource-efficient rendering and enhancing user experiences by adjusting the level of detail based on proximity or relevance.
The Level of Development (LOD) specification is a framework within Building Information Modeling (BIM) that defines the extent of information and detail within model elements at different project stages. Ranging from LOD 100 (conceptual) to LOD 500 (as-built), it outlines the level of accuracy and completeness for each element. LOD specifications help standardize communication among project stakeholders, ensuring a shared understanding of the information's reliability. This guidance is instrumental in managing expectations, fostering collaboration, and streamlining decision-making processes throughout the project lifecycle, ultimately contributing to the success and efficiency of construction and design endeavours.
The difference between LOD 300 and LOD 350 lies in the level of detail and development within Building Information Modeling (BIM). LOD 300 represents a highly detailed model at the fabrication stage, including precise geometry, size, shape, and location of individual components. On the other hand, LOD 350 goes a step further by incorporating additional information such as connections, specific detailing, and construction sequencing. LOD 350 is more advanced, providing a comprehensive understanding of how components come together during construction. Both levels play crucial roles in ensuring accurate and effective collaboration among project stakeholders, guiding the construction process with enhanced precision.