MEP Shop Drawing Services for Seamless MEP Installation and Fabrication
We support contractors, engineering consultants and MEP trade contractors to gain error-free and quick MEP equipment installation onsite with precise and detailed MEP shop drawings.
Our team understands that CAD-based 2D MEP shop drawings may often lead to geometric deviations, erroneous installation, inaccurate prefabrication, and incorrect dimensions for site verification. We deliver coordinated and clash-free shop drawings to ensure dimensional and data accuracy of MEP components for your MEP project.
We offer customized MEP shop drawing services for HVAC, electrical, plumbing, Mechanical piping, fire protection etc. Our coordinated functional shop drawings improve building design accuracy and delivery.
Accelerate your construction delivery schedule by more than 50%.
Contact our team TODAY »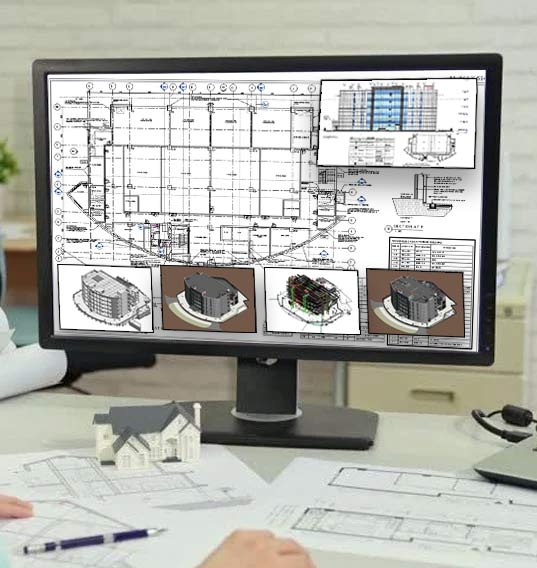 Precise and detailed Revit MEP coordinated construction drawings
Our team of Revit certified MEP experts create MEP-coordinated shop drawings using the latest processes and tools including Revit® MEP and AutoCAD®. Our coordinated and clash-free HVAC shop drawings, plumbing drawings, and electrical and firefighting drawings are created as per standards such as Cobie, NBS, RIBA, ANSI, BSI, ASME, and ISO. We have set a proven track record of successfully completing projects with a skilled and experienced team of engineers and drafters.
Our team of MEP experts extract MEP shop drawings from coordinated 3D Revit models to help you gain accurate schedules, fabrication, and hassle-free installation while saving time and costs.
Our MEP shop drawings services span a global clientele including the USA, UK, Australia, Canada, Europe, and the Middle East.
Our Revit MEP shop drawings service offerings
Mechanical Shop Drawings
We deliver accurate mechanical shop drawings & assembly drawings for fabricators, consultants, & engineers for pre-fabrication of Mechanical/HVAC components.
Electrical Shop Drawings
We build dimensionally accurate layouts & routing for electrical components including distribution, security systems, and lighting systems for seamless installation.
Plumbing Shop Drawings
We create error-free plumbing shop drawings for domestic water systems, drainage water piping as well as natural gas piping systems as per project needs.
HVAC Duct Shop Drawings
We create clash-free HVAC Duct shop drawings with detailed information on placement of ducts and equipment for fabricators and contractors.
Piping Shop Drawings
We create accurate, clash-free and coordinated spool drawings and shop drawings for piping systems as per project requirements.
Modeling/Coordination for Mechanical Rooms
We provide mechanical modeling & coordination solutions for HVAC, Electrical, Piping, Plumbing, and Fire Protection consultants and fabricators for various sectors.
MEP BIM Coordination
We provide MEP BIM Coordination services including HVAC BIM, Piping BIM, and Plumbing BIM Coordination Services for MEP Contractors/ Engineers.
Detailed MEP Documentation
We create coordinated and clash-free MEP 3D models as well as isometric drawings and comprehensive construction documentation for architects and general contractors.
What our
Clients

Say

– – CEO, MEP Consultancy, USA
Client-centric MEP modeling and MEP shop drawing services
We use automation through Dynamo and other APIs to accelerate the 3D modeling process. We also reinforce our data accuracy and validity for MEP models and shop drawings with Revit families for fixtures, HVAC equipment, and other MEP components.
We serve a range of key stakeholders including MEP designers and consultants, specialty contractors, manufacturers, fabricators, MEP installers, and engineers. We have provided winning solutions for a global clientele that includes 51+ countries, with more than 30 Revit-certified professionals, 25+ years of experience, and 100+ MEP projects delivered successfully.
We offer MEP detailing and shop drawing services forn multiple sectors including residential apartments, hospitals & quarantine facilities, underground infrastructural utilities, retail & commercial complexes, medical laboratories, educational institutions, power plants, and industrial structures.
Advantages of outsourcing your MEP shop drawing requirements
Getting detailed, accurate, and project-specific MEP shop drawings is critical to achieving winning MEP installations for fast-track and complex projects. As a trusted BIM outsourcing company entity, we offer clients best-in-class coordinated shop drawings to help you stay competitive and gain greater ROI.
Significant improvements in productivity and building quality
Quick turnaround time for manufacturing and installation of MEP equipment
Accurate scheduling and cost estimates for MEP components
Identifying potential problems before fabrication & installation
Enhanced offsite fabrication and better decision-making
Clear design intent with high-quality 3D deliverables and 2D documentation
Clash-free and technically enriched MEP shop drawings
Competitive pricing with a successful track record