Detailed drawings for furniture manufacturing
Furniture manufacturers have difficulties predicting complex designs and shapes to make wooden and metal furniture. It requires them to consider engineering factors as well as looks to be delivered within budgets. They would rather run into an iterative process of design approvals and changes or end up running over budgets.
TrueCADD's furniture experts help you overcome these challenges through comprehensive 3D CAD models and 2D detailed furniture shop drawings. We create furniture drawings for customized manufacturing of metal and wooden furniture and millwork products. Our teams have extensive experience in delivering AutoCAD® 2D drafting and SolidWorks, Inventor® and Creo drafting to meet your shop floors needs.
Share your sketches to get detailed furniture drawings →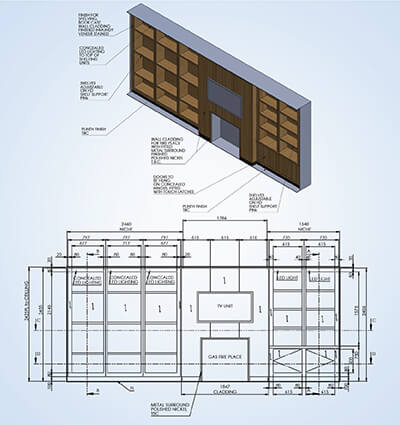 Seamlessly manufacture wooden and sheet metal furniture and fixtures
We understand your detailed design intent, tooling capabilities, and applications and develop 2D drawings for furniture. Our expertise include CAD drafting for products like kitchen cabinets and drawers, sofa, wardrobes, park benches, patio and garden furniture, desks, industrial storage racks and more. To help you create resilient furniture products, we offer services such as:
2D drafting and manufacturing drawings using AutoCAD
3D modeling and assembly animation using SolidWorks
Texturing and carving for furniture products and interior decoration
Shelves, racks, and customized shopfitting furniture
Rendering for photorealistic look in 3ds Max® and Photoshop
Revit® family creation of architectural furniture products & fixtures
Developing product configurator using DriveWorks and Inventor iLogic
Design automation using SolidWorks and other CAD macros
Industries we engage with
College and university furniture
Garden and outdoor furniture