One-stop support company for mechanical design services
We are an India-based outsourcing company, offering a range of mechanical engineering CAD support services. We partner with manufacturers, design engineers and fabricators from US, UK, Europe and Canada to transform complex mechanical product design into finished manufactured products.
Our deliverables include detailed CAD drafting, drawings and 3D models to reduce errors and interruptions during manufacturing. We also offer mechanical CAD conversion services to preserve legacy designs, reduce overall costs, faster turnaround times and get highly quality CAD files.
Request a quote Now »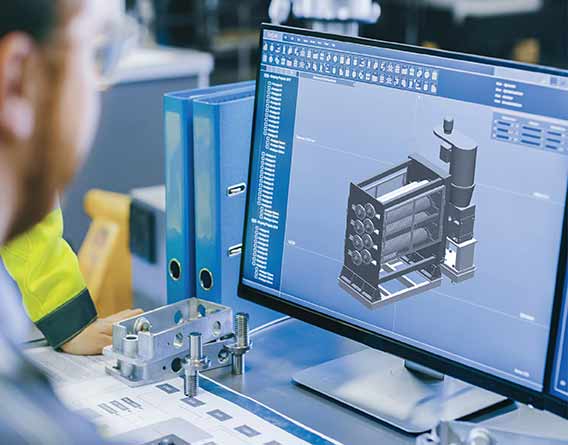 Our mechanical design services offerings:
We collaborate with furniture manufacturing companies, millwork contractors, sheet metal fabricators and many others as an extended arm for design support. Our SolidWorks and AutoCAD® experts partner with your chief design engineers and industrial product designer to develop comprehensive CAD models and drawings. Our mechanical engineering design services include:
Mechanical drafting: Our mechanical drafting services give detailed technical input for handoff between designers and manufacturers
3D CAD solid modeling: Our detail-rich 3D CAD solid models enable clearer design intent communication across stakeholders
Sheet metal design: Outsource sheet metal design drafting to us for cost effective sheet metal fabrication and reduced change orders
Our team of 200+ mechanical CAD design engineers use leading CAD tools like SolidWorks, Autodesk AutoCAD and Inventor®, Creo, DriveWorks etc. to deliver comprehensive 2D CAD drafting and custom 3D CAD modeling services and design automation services. We offer SolidWorks design services to ensure single file for all stakeholders in form of 3D CAD models with annotated PMI.
Share your requirements with us »
Explore our engineering design outsourcing services portfolio:
What are the advantages of mechanical design services?
Mechanical engineering design services refer to hiring a CAD engineering team to transform conceptual design sketches into detailed 2D or 3D CAD files for seamless design communication.
Some advantages of mechanical CAD design services include:
Improved design development
Quick turnaround time
Faster time to market
Detailed design analysis
Easy design communication
Design rendering
Low overall cost
Virtual prototype testing
Our engineering design outsourcing services for various manufacturing areas
Architectural / Structural metal products
We have the expertise, skills and technology infrastructure to develop mechanical CAD drawings for products such as steel stairs, handrails and guardrails, canopy and awnings etc. We also specialize in developing custom door and window designs made of hollow metal, wood and glass. Our millwork engineers have capabilities to take up joinery drafting projects for bars and restaurants, hotels, universities and many more.
Benefits of outsourcing mechanical design services to us
We follow stringent quality control processes for every CAD deliverable and adhere to all international design drawing standards like ANSI, AWS, IS, TEMA etc. Our highly skilled engineers understand your manufacturing tooling capabilities to create shop drawings to minimize engineering change orders.
30+ years of successful outsourcing partnerships
Global presence across 51+ countries
Easy ramp up and ramp down with 200+ engineers
Access to multiple CAD tools
Right first time deliverables
Adherence to data security norms