Architectural Drafting Services for Improved Construction Efficiencies
We offer top-quality architectural drafting processes and use best-in-class Architectural drafting tools to realize quick and error-free architectural drawings. Our architectural drafters ensure every draft is technically sound, error-free, easy to understand, well-executed, and enriched with superior presentation quality for quick approvals.
Architects and architectural firms using legacy methods to create architectural drawings may face challenges of data inaccuracy, insufficient technicalities, low-quality visualization, incorrect material procurement, and delayed project development.
From concept to realization, our qualified team of AutoCAD certified experts use CAD and Revit drafting to deliver accurate and precise architectural CAD drafting services and detail engineering services drawings as per project needs.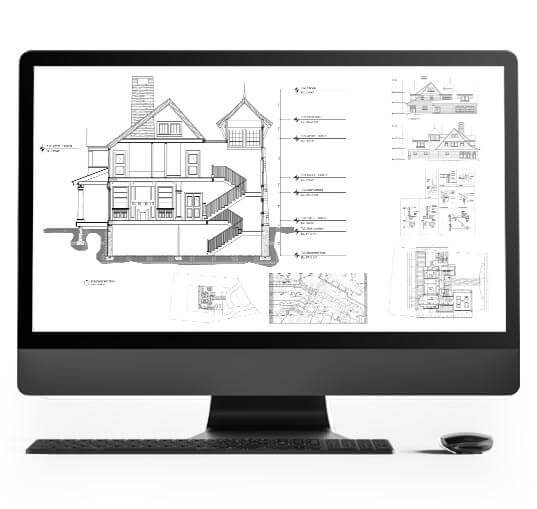 Accurate and Best Quality Architectural Drafting Services
Our team of architectural drafters undertake and deliver top-quality architectural drafting services in the early design phase. We use dynamic drafting tools like Revit® Architecture and AutoCAD® to achieve drafting deliverables as per global templates and standards. We create a facade, elevation, section drawings, site plans, interior layouts and other related drawings.
Our highly accurate drafting services and coordinated drawings enable architects to gain faster approvals. We convert PDF files or 2D designs into architectural drawings to enable architects, designers, realtors, developers, homeowners, contractors, and building managers to achieve first time right deliverables within planned budgets and quick turnaround time.
As an architectural BIM modeling firm with 25+ years of experience in working with architectural companies from the USA, UK, Australia, Canada, and Europe, we are available to assist you at any time.
Our Architectural Drafting Service Offerings:
Architectural 2D Drafting Services
We digitize old set of drawings from scanned PDF into full scale 2D AutoCAD drawings with layering and related standards such as elevations, sections, site plans, floor plans.
Paper to CAD Conversion Services
Conversion of project sketches as well as layouts to CAD, enriched with design elements, vector formats, dimensioning, and raster to vector conversion.
Redline Markup & PDF to CAD Drafting
Accurate redline markup drawings & conversion of PDF to CAD files and hand-sketched drawings through error-free detailing and drafting.
Sanitation, Storm Water & Sewerage Drawings
Precise CAD drawings for storm water, sewerage, and sanitation based on conceptual design, specifications, and industry standards.
Permit Drawings
Precise permit drawings as per government regulations or local standards to get quick approvals from concerned authorities
Construction Document Sets (CD)
Complete construction document set with dimensions for plans, doors, walls, rooms, windows, section views, exterior elevations, as-built drawings, and shop drawings.
Point Cloud to 2D CAD Drafting
2D CAD drafting and building floor plans and elevations, sections from point cloud scans of any heritage or old building or structure.
Project-wide Drafting
End-to-end architectural drafting for conceptual design, schematic design, design development, and construction-equipped CD sets.
What our
Clients

Say

– Founder & Owner, Technology Consultancy for AEC Industry, USA
Why You Should Outsource Your Architectural Drafting Needs to us
Our team of BIM modeling experts offer accurate and high-quality architectural drafting services to improve lead times for clients that require streamlined construction backed by augmented time and cost savings.
Demonstrated consistency in generating high-quality deliverables within planned timelines
Significant savings of cost of infrastructure, staff, and software
Qualified and skilled drafting team ready for demanding international projects
Production of engineering drawings, CAD drafting, and conversion as per client standards and project needs
100% project data and client confidentiality as per ISO and GDCR standards
Scalable and flexible resource ramp-up within a short notice
Greater project value for clients through error-free architectural deliverables
Faster approvals to speed up project time and improve productivity
Specialized Architectural Drafting and Detailing Services
As one of the leading architectural design and drafting companies in India, our highly trained and dedicated teams of CAD draftsmen and architects work as a trusted extended arm for all our customers across the world. We aim at providing top-notch architectural drafting services at competitive pricing through the most up-to-date processes and tools.
We enhance the efficiency of functions specifically in 2D engineering drawings, 3D CAD drawings for construction, and CAD conversion services. We create elegant architectural drawings with the skills and our highly experienced team of architects.
Our goal is to deliver the project on time as much as possible because we value our clients' time. We'll work closely with you to build a satisfying and long-term relationship. We'll work closely with you to build a satisfying and long-term relationship.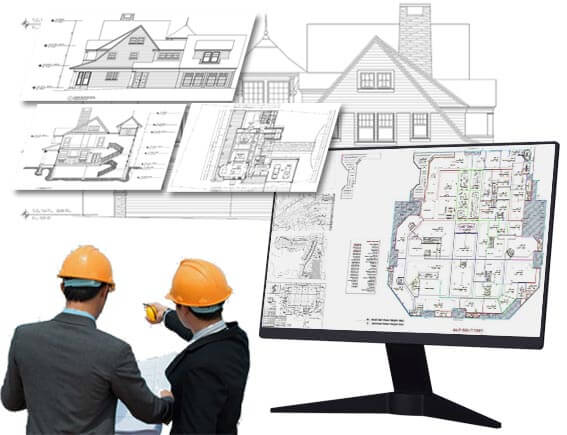 Our Drafting Services to Various Sectors
Residential & Commercial Buildings