High quality photorealistic 3D architectural rendering services
We understand the need for architects, realtors, property developers and architectural companies to communicate design intent, aesthetics, materials, textures, and lighting, furniture, and décor options in a realistic manner. We enable you to meet client demands, with a quick turnaround, get quick approvals and reduce overhead costs with our high-quality architectural rendering services.
We offer customized 3D architectural rendering services with 3D visualization through the conversion of CAD drawings, PDFs, sketches, plans, and 3D models for an iconic visual impact. Our 3D architectural renders communicate true project intent through an accurate space layout, lighting, colors, textures, and dimensional accuracy.
Outsource your architectural 3D rendering needs »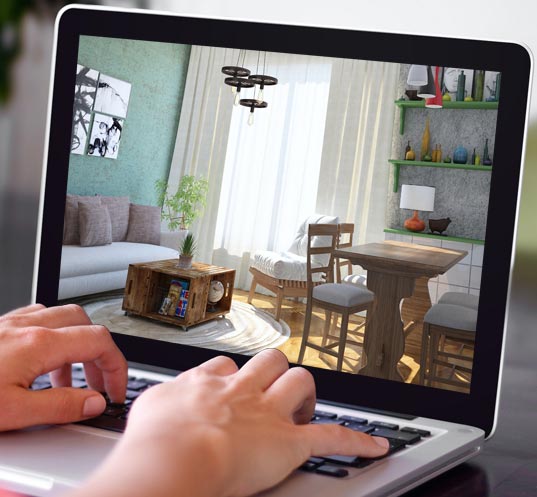 Interactive 3D visualization with high-quality architectural 3D rendering
As one of the best-in-class 3D architectural rendering companies in India, we undertake contemporary and complex projects to deliver high-performance architectural visualization. We use advanced 3D model creation and architectural rendering tools like Revit® Architecture, V-Ray, Autodesk® Mudbox and 3ds Max® to create design concepts and immersive walkthroughs within real-life spaces.
We have successfully delivered architectural 3D rendering projects to a global clientele and collaborated with clients in the US, UK, Canada, Europe, Australia, and the Middle East.
Our 3D architectural rendering service offerings:
3D Rendering
Architectural visualization with landscape design, 3D architectural interior and exterior rendering, floor plans, and aerial views.
3D Architectural Interior Rendering
3D interior rendering and design concepts with eye-catching visuals enriched by accurate space management, materials, zoning, colors, textures, and lighting.
AR Ready Models
High-end and AR-compatible architectural deliverables in 360 virtual reality for self-guided tours around design and properties through customization and data enrichment.
3D Architectural Floor Plan Rendering
3D architectural floor plan rendering with dimensional accuracy of furniture for aesthetic visualization with high-impact 3D models and 360 spin images.
3D Animations
3D architectural animation for presentations, walkthroughs, flythrough animations, and interior/exterior photorealistic virtual tours.
3D Architectural Exterior Rendering
3D exterior rendering with 360-degree visualization of buildings and photorealistic exteriors to convey true ideas and design intent to clients.
Photomontage
3D photomontage of buildings and structures with surroundings and exterior design with neighborhood view for marketing and presentation purposes.
Scenic Renders
3D scenic rendering and full-color perspective with background aesthetic effect of furniture, lighting fixtures and related objects.
What our
Clients

Say

– CEO, Architectural Firm, UK
High-Resolution AR ready 3D models for greater property footfalls
We provide 3D architectural rendering and 3D architectural visualization from the concept stage to the design stage. We specialize in creating impactful 3D visualization with photorealistic 3D renders to communicate design ideas with complete clarity. Our team of 75+ architects and designers with 25+ years of experience, serving 51+ countries offer the best architectural 3D rendering services at affordable pricing.
We help your dream project to come to life with our 3D rendering services for multiple sectors including, residential, commercial, office buildings, healthcare, industrial, cultural / entertainment, education, space planning/interiors, and retail planning.
Why outsource 3D architectural rendering services to us?
Specialized 3D visualization capabilities support clients with multiple design options and bring architectural vision to life.
High-quality 3D rendering services at cost-effective pricing to convey design intent to end client
Customized architectural models with latest tools and certified resources to create high-quality visualization in 3D space
Comprehensive visualization for quick approvals and improved decision-making
Quick Turnaround to meet client deadlines for architectural presentations as well as and marketing needs
View models of architectural buildings in realistic environment with interior/exterior and neighborhood views
Cloud-based storage of project data and rendered files
3D architectural rendering services for various sectors
Residential, Commercial, Office Buildings
Space Planning / Interiors
3D Architectural Rendering FAQs
What is photorealistic rendering in 3D?
Photorealistic 3D rendering uses a 3D model built through 3D processes and a render engine to generate a 3D model image. These images are created to be life-like to realize an in-depth view of the objects with full-color, texture, lighting and background to get a realistic look and feel.
What are the different types of 3D rendering processes?
The different types of 3D rendering processes include exterior rendering, interior rendering, 3D animation, 3D virtual tours, and walkthroughs.
How much time does it take to create a photorealistic visualization in 3D?
The duration to complete photorealistic renders depends on the project's complexity and work scope. Send us your requirements to know the exact TAT to achieve your deliverables.
Are there any problems in outsourcing 3D rendering services?
No, there are no difficulties or challenges in outsourcing 3D rendering services with TrueCADD.
What is the cost of 3D rendering services?
The budget for 3D rendering is based on a series of factors including work scope, level of detail required in the renders, view count, and resolution. After you submit your requirements, it will take us 24 hours to provide a quote for your project.
What is the significance of 3D rendering services for architects?
Architects can leverage 3D rendering services to reduce process costs, facilitate visual interpretations, make preemptive revisions, communicate design intent better to end client, achieve accurate computation, gain a competitive edge, and save time and cost.