We deliver full-range and high quality CAD drafting services package that encompass 2D and 3D technical drawings as well as production drawings for manufacturing and construction industry.
Our team of 100+ CAD drafters partner with architects, contractors, fabricators, design professionals, and engineering design and drafting companies to deliver high-quality drafting work and production-ready 2D/3D drawings. Our engineers and drafters offer outsourcing CAD drawing services at affordable costs to develop millwork drafting, shop drawings, and fabrication drawings of superior quality from your design concepts and 3D models.
Our portfolio includes working with furniture manufacturers, millwork shops, architectural & engineering firms, and industrial equipment manufactures for creating CAD drawings with machining and process allowances. Our India based teams provide the highest quality of CAD drafting and line drawings to design engineering teams of offshore engineering design firms and manufacturing organizations.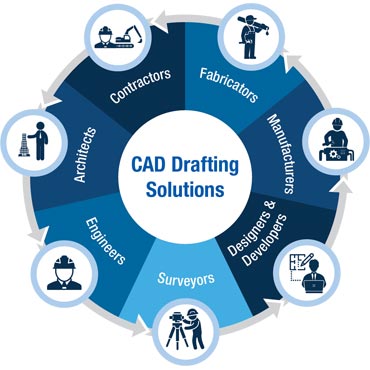 Areas of our expertise in CAD Drafting Services:
With an experience of 25+ years of delivering drafting services for various industry verticals; we have acquired expertise across enlisted areas:
2D and 3D CAD Drawings
CAD Conversion (PDF to CAD & 2D to 3D)
Fabrication Drawings
Assembly Drawings with BOM
Components Drawings
Manufacturing Detail Drawings
Create 3D Model from Existing Drawings / Images
Casting Drawings
Furniture Drawings
Cabinet Drafting
As-built and Markup Drawings
Migration of library to new software (E.g. AutoCAD®to SolidWorks / Inventor®)
Hire a CAD Drafter »
How do we charge fees for CAD Drafting Services?
Costs of outsourced CAD drafting services to companies vary according to the industry, license charges of CAD software, expertise and the certifications of the draftsmen. Our offshore India based drafting teams enable us to charge lower, hourly and monthly fees, as compared to other players in the industry. When you partner with or hire our CAD drafters, we ensure top-tier deliverables with primary and secondary QC for man-hours as agreed in the contract.
At TrueCADD, our CAD draftsmen along with CAD consultants read your blueprints or 3D models and deliver comprehensive 2D and 3D drafting solutions that suit your business requirements.
Our fees for CAD drafting per hour are based on:
Scope of Work
Project Complexity
CAD Tools
Timeframe of Work
Resources Needed
Why outsource CAD drafting services to us?
We deliver standardized submittal drawings with accurate geometrical dimensioning and tolerances as per international and industry specific design and drafting standards. Our CAD drafting technicians are equipped to handle projects of any complexity and scope and deliver top-quality drafting services at a much more competitive price.
Whether you are located in the USA, UK, Canada, Australia, New Zealand, Singapore, and Europe; our 2D drafting services from offshore facilities near your destination assist you with efficient business practices and lower overhead costs.
Request a Quote »
Apart from our best CAD drafting services cost, enlisted are our fortes:
Deep Domain Expertise
On Time Delivery
Fast and Reliable
Dedicated Resource
Quality Assurance
Global Presence
Our global customer-base includes:
Furniture Manufacturers and Retailers
Architectural Design Firms
Interior Designers
Civil and Structural Engineers
Trade and General Contractors
Fabricators and Manufacturing firms
AEC firms & Surveyors
Processing/Industrial Plant Owners
If you belong to any segment of construction or manufacturing industries, we can help you achieve the best quality and make the most out of our partnership.
Get in touch with our experts for your 2D and 3D CAD drafting projects requirements.