We are leading plant design engineering services providers enabling plant owners, EPC contractors, consulting firms and equipment suppliers to improve collaboration, minimize design risks and expedite project delivery.
We have developed extensive experience in developing digital design information for process, piping, mechanical and structural engineering functions for plant design requirements.
Our engineers provide 2D drafting, 3D CAD modeling, reverse engineering and FEA/CFD analysis solutions for power plants, steel plants, and other major manufacturing and processing facilities. Our engineering team utilized cutting-edge technology tools like SolidWorks, AutoCAD, Revit, Inventor, Tekla and Creo for 3D modeling and 2D drawings development.
Explore our projects: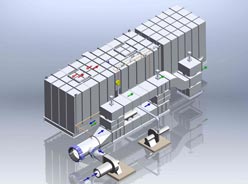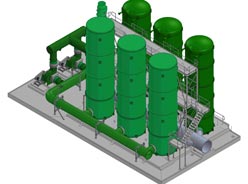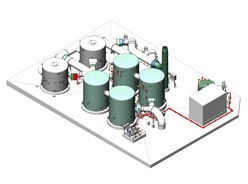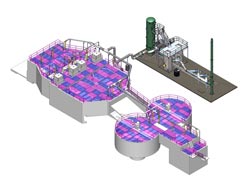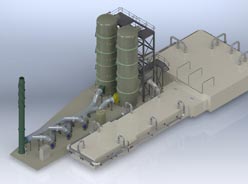 View More Projects →
Our plant design capabilities for plant owners, equipment fabricators and EPC firms include:
Mechanical plant specification and detailed design of the plant layout and machine arrangement using AutoCAD Plant 3D
Modeling for HVAC, Mechanical, and Electrical plans using Revit MEP and SolidWorks
BIM models for as-built plant facility using Revit and Tekla
BIM content creation for plant equipment and efficient floor space utilization
Modeling with design confirmation according to ASME BPVC, ANSI, TEMA
Design support and validation using ANSYS Mechanical and ANSYS Fluent for hydraulic, pneumatic and mechanically operated equipment for process and power drives
Reverse engineering solutions for replacement of equipment and aid OEMs for remanufacturing
Our plant design engineering services include:
Process Engineering
2D Drafting for development of process flow diagrams (PFDs)
CAD conversion from 2D sketches, PDFs and drawings to 3D CAD models
Process simulation using engineering analysis
Development of plant operations and maintenance manual
Piping Design
Development of Piping & Instrumentation Diagrams (P&IDs)
Point clouds to CAD conversion for intelligent P&ID development
Detailed 3D CAD modeling for piping arrangements
Pipe stress and flexibility analysis using Finite Element Analysis (FEA)
Development of construction documentation for piping systems
Mechanical/Equipment Design
2D detailed manufacturing drawings, fabrication drawings and assembly drawings for equipment
Detailed design development for:

Tanks and fittings like pressure vessels, storage tanks and safety vales
Fluid handling and pumping equipment like heat exchangers, separators, pumps and turbines
Material handling equipment like cranes, hoist and receivers
Power generation equipment like boilers, furnace and burners

Engineering analysis for structural, thermal and fluid flow studies using FEA and CFD
Structural Engineering
Development of foundation detail and location drawings, steel structural arrangement drawings and fabrication drawings with BOMs
Detailed 3D modeling and animation for plant structure design
Finite element based structural analysis and seismic analysis to evaluate structural integrity
Discuss your plant design engineering requirements with us at info@truecadd.com.
Get in Touch!
TrueCADD
Gurukul, Ahmedabad - 380 052.
Gujarat, India
Email: info@truecadd.com