Sheet metal has found its application in heavy engineering industries like automotive and aerospace components, to light engineering industries like consumer goods viz. furniture. As a result, intensive researches and developments are carried out continuously in order to reduce weight and increase performance with safety requirements.
Due to versatility of sheet metal, it is extensively used for visible and functional benefits. The functional benefits depend a lot in the designs and fabrication process, though individually but to a considerable extent.
Out of all the industries, furniture industry has extensive design experimentation and employs sheet metal to a very significant level. Some of the design complications and overcoming them are readily incorporated as under.
Design complications and overcoming them
Bends and Bend reliefs
Bends, weldments, boring, rolling etc. are a few of many often occurring processes in the sheet metal fabrication for a furniture product like doors, windows and frames. Now, the process of bending essentially means, changing the curvature along a particular axis. By clamping the metal and bending it in press brakes for sheet metal enclosure, the metal bends in curvature and not exactly at 90◦ angle. Thus, it becomes a bending radius and not angle, which should be at least 1.5 times the thickness of the sheet metal or gauge value. While accommodating multiple radiuses, designers try and incorporate all the bends in the same direction.
In case of bends near the edges, there are high chances that the metal will tear off from the bend, and hence it becomes essential to provide ben relief. Bend reliefs should be incorporated with the thickness equal to greater than the sheet thickness. However, through software like CAM software, all the bending sequences can be tested.
Counterbore and Countersinks
Another feature commonly encountered is counterbores and countersinks, required extensively in sheet metal design. To preserve the material properties when the metal undergoes manufacturing processes like forming, it becomes essential to care for the effects on counterbores and countersinks. Counterbores can be put in the sheet either by punching or by machining, both having different finishing characteristic. Between two successive counterbores, the minimum distance of eight times the material thickness is a must; since the chances of sheet tearing off increases due to stress concentration. On the other hand, for a countersink the maximum depth should be 3.5 times the material thickness.
Also, in case of a counterbore/countersink near the edge, the minimum distance between both should be at least four times the material thickness. Same goes for a bend and counterbore/countersink; in addition of the distance of bend radius.
Weldments
Weldments are often common in sheet metal modeling for furniture products, since bending of large parts with flanges is to be avoided. Even if included, the height of flange is dependent on bend radius and hence weldments are necessarily included to freely create wide range of sheet meatal designs and applications. Fabricators through the sheet metal fabrication drawings determine how they fit together and are assembled in place while welding.
Arc welding has the most vivid application in sheet metal welding of short parts. However, welding by hand is employed for sheet metals having gauges higher than 20.
Other than this, spot welding is used for joining coplanar surfaces. The weld material is same as that of the base material and weldment a very tight tolerance so avoid adding of filler metals.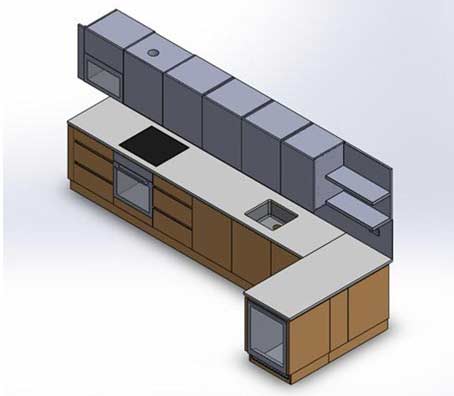 CAD Model for Kitchen Cabinets Developed in SOLIDWORKS
Designs through CAD and abiding DFM guidelines
Ideally, designers incorporate all the design details with innovative and effective ideas early in the product development stage of any furniture product. However, designs in CAD are repetitively carried out for the sake of ending up with fair manufacturability. A good design of any production-ready product should be free from errors to ensure cost-effective production. A good designer knows the shop floor conditions and designs accordingly leaving out no details.
Most designers use SOLIDWORKS for sheet metal designing and preparing fabrication drawings for furniture. Since the drawings are prepared in the software based on Design for Manufacturing –DFM guidelines, the need for checking and rechecking of designs is eliminated, as they are designed considering the gap between shop floor conditions and a software environment.
Moreover, simulations done in this software for fabrication processes like forming etc. for effects on sheet metal allows the design engineer enhance the design and understand the effects of operations on the material. Performing number of iterations for prototype tests are avoided through CAD simulations, empowering the sheet metal designer to strengthen the product development.
Conclusion
Getting work done by flexible design approach is what CAD and DFM together offers. Sheet metal is an element that finds its application from smallest of the daily use material like a door or window or a furniture product to high cost aviation and heavy machinery industry. Designing the sheet metal parts for such products helps the manufacturer as well as the designer overcome many barriers at once, with quickly accelerated process.