Millwork and Casework, the two often interchanged terms, are connected with the building architecture and construction. Falling under the umbrella of carpentry, both the terms have distinct application from CAD drafting and manufacturing perspective.
What is millwork?
Millwork or millwork design refers to finished building products or woodwork produced in a mill such as doors, crown molding, wall paneling, display counters, custom kitchen cabinet drafting, etc. However, the elements that are integral parts of the building itself, such as ceiling, flooring, or siding etc. are not included here, although made of wood.
A few more examples of millwork products would include trim pieces, window frames and windows, closet doors, stair banisters and more. These products essentially enhance the interiors of the building and often called architectural ornamental products.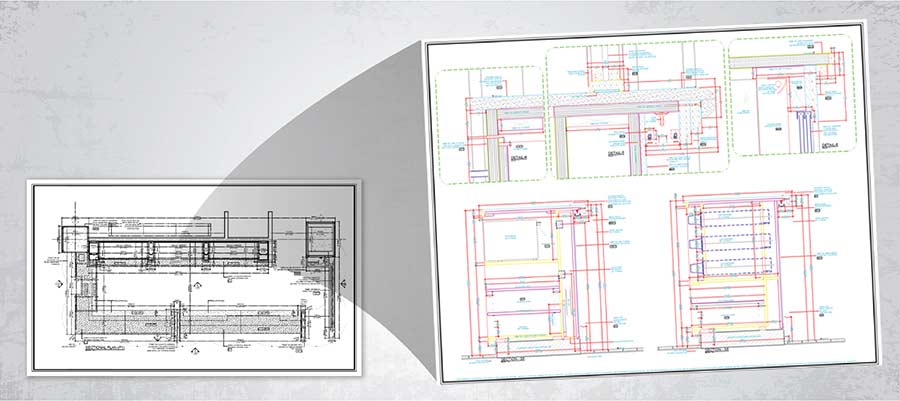 Millwork products are usually custom made and hence each design and manufacturing aspect of the product is engineered-to-order. Millwork design experts calculate the size requirements based on architectural floor plan drawings for designing geometry of millwork products. Customer's choices are then factored in to finalize the millwork design and necessary details are added to develop detailed millwork shop drawings.
What is casework?
Casework, as the name suggests, is all about manufacturing the boxed furniture such as cabinets (display and storage), racks & drawers, bookcases, storage spaces, etc.
Kitchen cabinets can fall under both millwork and casework. But since they are more often custom made and deep embedded within the building architecture are referred to as kitchen millwork. It includes every storage cupboard, pantry furniture and drawers.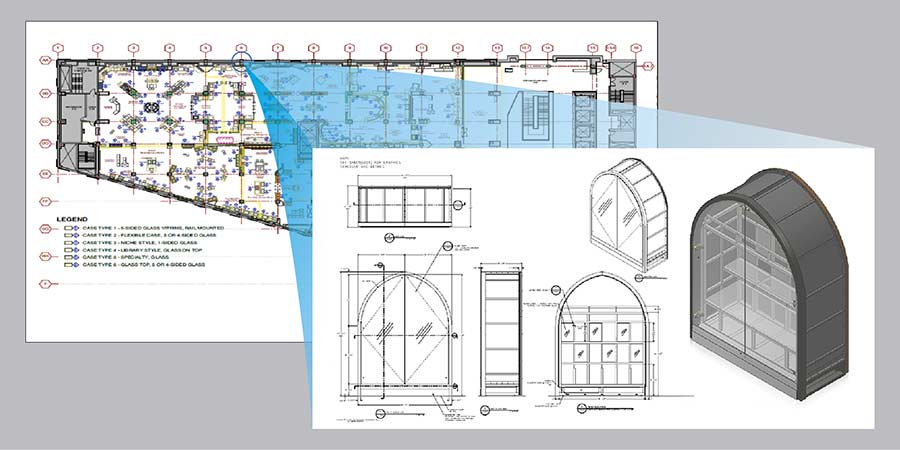 Ideally, casework construction doesn't include furniture that is custom made and usually finds applications in modular usage. The central idea of any cabinet maker or other furniture manufacturing company (or the casework CAD drafters) is to deliver the pre-fabricated building products (or casework CAD shop drawings) that can be assembled at the site for the end product.
The Difference between Millwork and Casework
Major difference between the two is that millwork is custom, while casework isn't. Casework pieces are not made to fit the spaces, they are rather made after taking the specific geometrical dimensions of the space. There, of course, can be multiple variants and customization of colors, surface finish, etc. can be done at the end of the user in case of casework.
Now a question arises that are windows considered under casework or millwork? Ideally, windows, trims and etc. qualify as millwork as they are all custom made woodwork products. They are designed as per the need of the customer. So obviously manufacturers find it difficult to manufacture and deliver the final millwork product on time. But architectural millwork design drafting help drive efficiencies in highly custom millwork products.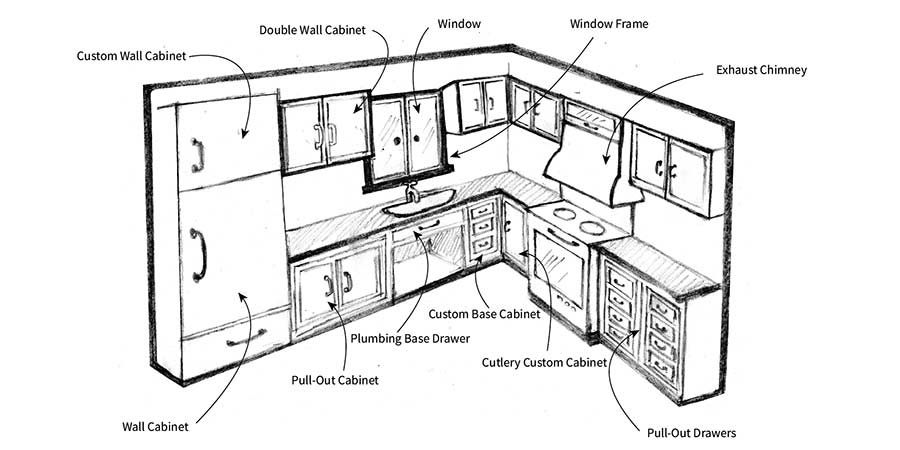 Another difference lies in the method of production. Casework can be mass-produced, and hence is usually less expensive. Millwork, on the other hand, is only made for a specific space of the building and the same geometrical drawings cannot be reused for another project. Thus, millwork is relatively expensive.
Costing: Millwork vs Casework
Casework is simpler compared to millwork that is custom made and hence the latter is costlier. Clearly, the cost of per piece of millwork is higher but also offers better quality. It needs time and detailed attention of CAD drafters in deciding the space decoration, utility, and uniqueness.
Thus, it is extremely important that the quality of millwork shop drawings is of the highest standards which can be attained by partnering with millwork drafting service provider. Mantelpieces or armoire are the most appropriate examples of detailed carving and meticulous designing.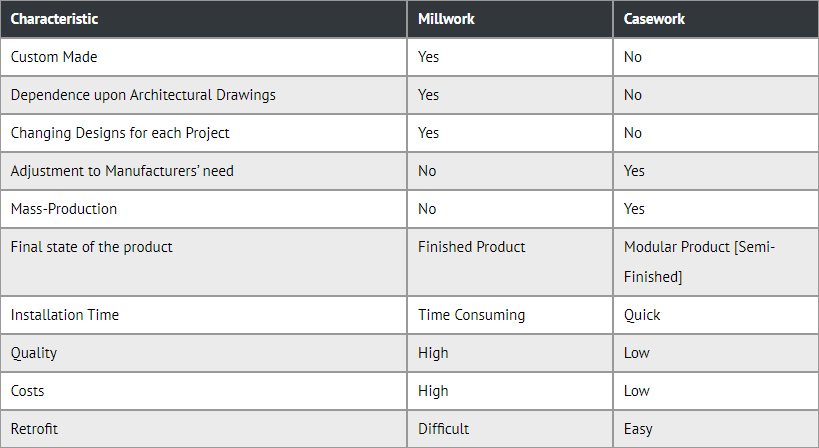 For smaller projects, customers usually tend to opt for casework as it allows picking up from the readily available factory products which are relatively available at affordable costs as against the custom made. But this also means that the final product quality may not be at par with the millwork products.
Thus, at first glance, it might seem that casework is not expensive, but evaluating the other parameters will lead to a conclusion that the architectural aesthetics available in molding and trim of room is unparalleled in millwork. It all boils down to the end customers' project needs.
Casework or Millwork: Which is preferable?
The above mentioned differences between millwork and casework, it is clear that both have their own set of advantages and disadvantages. Casework, falling under Division 12 of construction and millwork falling under Division 6 of construction are thus integral parts of any building construction project.
Casework, on one hand, provides consistent, quick storage options and comes for immediate use. It is very crucial in case of retail shops like food chain shops or restaurants. And for architectural millwork, it is convenient and allows customizing the CAD drawings as per the individual project needs. Mainly, it adds value and quality to the completeness of the project and thereby enhances the architectural space as a whole.
Since both, casework and millwork, have their own set of peculiarities, it is hard to say which one to undertake. One deciding factor could be how simplified the production shop floor activities can be with the final aim of cost reduction and utility. With this in mind, casework is modular and economical which makes it a more viable choice.
But from a customer's perspective, casework is accommodating to the manufacturer's product and millwork drafters' ideas. Thus, if the customer's want tailored designs, millwork is a better alternative. Millwork is also important while accounting for woodworking and bespoke furniture designing. Widely, CAD drawings for bespoke furniture manufacturing help furniture designers communicate design intent to the shop floor.
Bringing it all together
Now that you know the fundamental differences between millwork and casework, you can differentiate the two. Apart from the differences mentioned here, there are many more. Both, millwork and casework, find application in projects including commercial offices, retail stores, parks, hotels, shopping malls, restaurants, upholstery for furniture items, lightings, display counters, racks and shelves, mantelpieces etc. And hence they need to be designed with attention.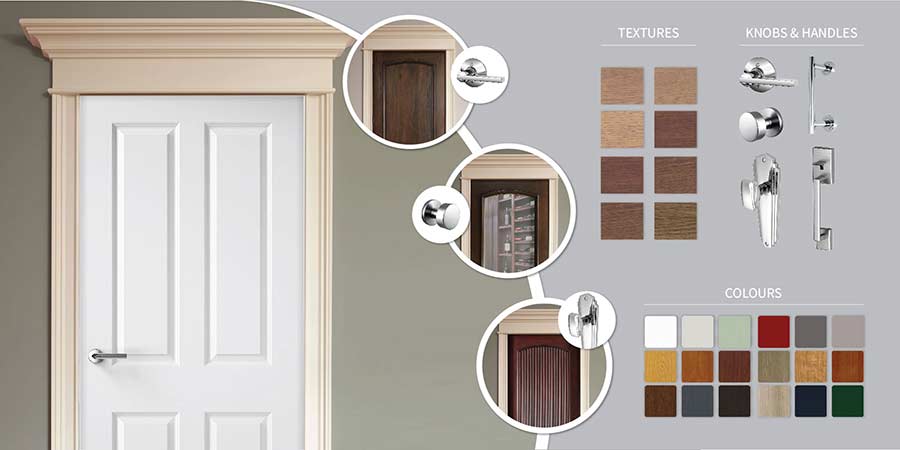 You as a millwork contractor, what matters the most is having architect, interior designer, home-builders, contractors and manufacturers on the same page during the project lifecycle. It is, thus, imperative for you to deliver millwork shop drawings with accuracy and correctness.
Outsourcing millwork shop drawings has proven to be profitable not just in terms of cost but also getting excellent quality, turnaround time and highly detailed documents. Through a close collaboration with external CAD drafting companies, millwork developers can reap the maximum benefits of outsourcing millwork shop drawings.
There are many CAD drafting companies that offer professional millwork and casework CAD drafting services to help you design custom CAD shop drawings. Building long term relationships with them help you get the best quality and display uniqueness of your space.