Updated: July 25th, 2018
BIM has become an important part for infrastructure and construction industry development. However, its scope of implementation has a much wider horizon. BIM has proven to be cost cutter, a herald for gaining insights and plan the construction well in advance, develop appropriate fabrication drawings and need of structural steel detailing with Tekla and much more for the construction industry. Today, these utilities of BIM are being used as an example to gain foresights other industries as well, like Oil and Gas for one instance.
For the oil and gas industry, BIM started as a 3D modeling platform and then it has slowly grown into a project process that ensures all data embedded into one .rvt file using Autodesk's Revit.
Today, just the way BIM is deployed as an imperative process right from designing to construction operations and beyond in, it occupies a significant position in oil and gas industry for several critical upstream and downstream processes.
Establishing BIM Presence in Upstream Domain of Oil and Gas
As the oil prices continue to sink, industry experts are casting around the idea of 'doing more with less' and hence are keen to increase the operational performance of oil platforms deployed amidst seabed. They are establishing an analogy between the complex construction project and oil platform and BIM is helping them succeed.
BIM for Designing of Oil Rigs
BIM involves a detailed design generation and the digital representation of structure alongside the functional aspect of every element used. A complete BIM-ready 3D model works as the repository of the actual physical oil rig and helps fasten the decision making with assured accuracy. Once the advanced offshore designing modeling is approved the most critical part – steel detailing of the rig structure is carried out.
Usually, the designing and steel detailing is done by a separate team of professionals, structural engineers and steel detailers as in the order. Based on the finalized structural designs, detailing teams – many times a subsidiary – prepare steel detailing drawings using Tekla Structures.
Steel detailing teams develop shop drawings, fabrication drawings, part and assembly drawings for steel fabricators for developing an enhanced communication between structural engineers and fabricators. Furthermore, erection drawings, assembly and installation drawings are shared with the onsite engineers for steel erection and impart strength to the structures. The data for generation NC codes can be automatically fetched from the 3D steel detailing drawings using Tekla APIs and feed to respective CNC machines.
Ideally, it is up to the detailing teams and structural steel contractor to ensure that the fabricator produces steel plans and rebar for the topside of the oil platforms, jackets, the tabular foundation that is piled into the sea body to anchor the rig base and structure.
Thus, it is crucial for detailing teams to understand the structural designs as intended and impart appropriate strength to the structure by reinforcement. And for all this, Tekla remains an inseparable element for structural engineers as well as detailers in increasing productivity, develop a seamless communication channel, and save costs.
BIM for Maintenance of Offshore Oil Rigs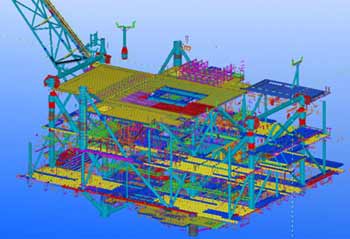 Tekla Steel Detailing Model for Offshore Oiler
As far as maintenance is concerned, BIM provides value-added insights by getting a virtual walkthrough of the rig model before the maintenance engineer is actually on to the tasks. It gives the maintenance team an idea of where the exactly the reinforcement or refurbishment is to be done and create a sequential plan of action.
3D models in Tekla create a comprehensive environment and interactive methods to present the information as compared to 2D drawings. The drawings and models made earlier can be customized and modified later based on the changes are done so that the as-built designs are digitized, and engineers can maintain the records well.
BIM makes a mark in downstream domain of oil and gas
Tekla thus, enables developing a complete model of oil platforms and entire rigs with the center of gravity, pipes, weld and bolts, anchor setting plans and just everything encompassing the rig structure. That, however, is a part of the downstream domain.
Tekla expands its horizon to upstream domain equally and helps the engineers construct strong processing plants with ease in crude processing extracted from the oil wells.
It allows the structural engineer to manage the design model of the processing plant facility, evaluate risks and eliminate them with as-built models. It identifies the problems and lets the design engineer find better design alternative way before the construction of the processing plant facility begins.
Tekla models depict Front End Engineering Diagrams (FEED) requirements and aids in managing all structural requirements easily. Tekla experts can integrate production equipment and piping into structural design models as a part of the structural fit and helps the design engineer gain appropriate insights for steel detailing to the structure.
Final Thoughts
Offshore oil and gas industry is in turmoil as the oil prices continue to sink further. The industry experts cannot afford other hurdles originating from design glitches or maintenance of equipment/facility in upstream or downstream domains. In such times, BIM backed steel detailing is the ally they need to embark upon to clear out their way.
Instances of BIM usage in the construction industry are sufficient to make oil and gas industry experts aware of the benefits BIM bring to meet oil demands – if not the prices in near future.