Updated: July 17th, 2018
For design engineers and architects, 2D and 3D CAD drafting is one of the deep embedded activities in daily task list. For both, architectural CAD drafting or mechanical CAD drafting, Converting 2D drafts into 3D drawing and models is becoming a necessity on course of achieving clear design communication.
How to manage CAD drafting costs with rising technology?
To achieve such enhanced design communication, architectural design and mechanical design engineers have embraced artificial intelligence, which is now growing at a pace, higher than ever, as Siri, Alexa and Google assistant are establishing a fondness in the tech world. Such AI backed digital devices are restricted not to tech but in business search as well. They have enabled the search for finding CAD services near your current location.
Currently, parametric CAD points out mistakes in drawings, runs the human error checks throughout the drawings automatically and amends it seamlessly reducing errors. Leveraging AI with CAD can take intelligent decision, though it would be too much to expect that AI will completely replace traditional human intervention for CAD drafting services.
As an architect or architectural consultant or a product design engineer, what differentiates you from your competitor is the in-depth understanding of markets throughout in your design drafts for client communication. Another factor governing your market value also includes the quality of mechanical or architectural CAD drafting services your drafter churns out. If you are outsourcing your drafting work, let us tell you that AutoCAD drafting fees, usually charged at hourly rates, aren't very big, but the costs you pay for wrong designs are.
Importance of professional 2D and 3D drafting services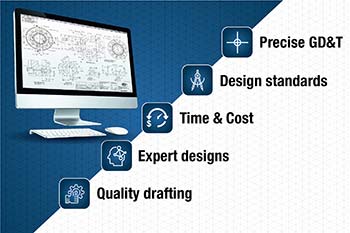 Ideally, any typical AutoCAD draft is capable of communicating design intent very well; be it design intent, comprehensive manufacturing information or how two components assemble in an assembly. Plant layouts, piping designs, P&IDs, FEED etc. can be conveyed easily with 3D drafting while 2D drafts remain a popular choice for shop drawings and manufacturing/fabrication drawings.
Additionally, residential and commercial building design processes also rely heavily on professional architectural drafting services to achieve quality works and seamless collaboration with the foremen on field. In fact, CAD drafts make it simpler to edit the final drafts and when initial drafts are undertaken by outsourced companies for either converting PDF to CAD or paper to CAD conversion services.
Converting any 2D drawing to 3D models is a simple yet resourceful task especially when it comes to explaining design intent to any stakeholder even from non-tech discipline of the project.
Yet, even the leading product design and drafting companies who deliver drafting have seen the downfall. One of the major reasons for such failure is lacking timed dedication for drawing and drafting by in-house design teams owing to other engineering and management responsibilities.
Why outsource CAD drafting services to India?
Such shortcomings can be overcome by seeking help from professional CAD design and drafting services working dedicatedly for 2D drafting. If your company has a correct concept of what you want to fabricate or the concept designs, then there are multiple drafting companies in the market competing to act as an extended arm to your engineering design teams.
There are multiple companies delivering outsourced CAD drafting services to engineering design firms and architects across the globe at economical rates, charged hourly.
One can find multiple reasons to outsource their CAD drafting services to companies in India, but enlisted are four critical reasons why design engineers and architects should partner with professional 2D and 3D drafting services companies.
1: Excellence in SolidWorks CAD drafting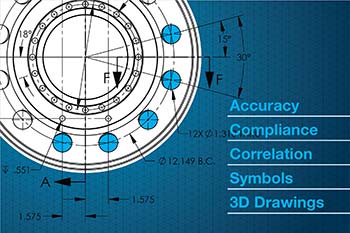 Excellence in design outputs does not only mean the accuracy and compliance to design standards; it goes far beyond. It essentially involves profound understanding of drafting, drawing symbols, and close correlation with manufacturing processes. It is the drafting company's or the drafters' responsibility to neatly mark the slope, depth, arc curvature, datum symbols, orientation and every other feature in the shop drawings or manufacturing drawings prepared.
Specially, mechanical designs and creating fabrication drawings of architectural building products are popular choices with SolidWorks. Mechanical and architectural CAD Drafting services providers have these skills and unparalleled knowledge gained by working in multiple industries. These SolidWorks CAD drafting experts having deep domain expertise in developing drafts for years which lets them eliminate any symbolical mistakes and create error free drafts and 3D drawings for uninterrupted processes.
2. Expertise in operating multiple CAD drafting software
Most of the times, especially in case of multicomponent assemblies, every part might have been modeled in varying CAD platform, and when imported, design data gets distorted. Sometimes, imports also involve cleansing of design data or drafts when imported and any unwanted data must be removed.
All such aforementioned shortcomings require sizeable modification before finalizing the drafts which demands the operator to have excellent skills for editing, archiving, search, replicate the parts, assemble etc. Such skills are acquired only with extensive usage of sketching tools over a considerable period of time.
Outsourcing CAD drafting will make the assembling and modifying the designs easier with the companies' drafting experts. It lends flexibility in importing parts developed in any CAD platform without any obstruction and leverage the neutral file formats like IGES/STEP for revision controls and imports.
3. Ratio of CAD drafting price to quality and project time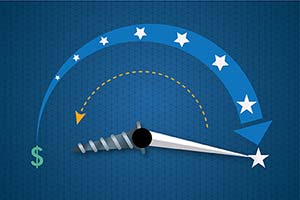 Every industry has its own specific set of design standards and regulations to comply; for example, medical device designs should adhere to HIPPA, mechanical products have ASME standards, and architectural designs adhere to AIA standards and so and so forth. It naturally makes it impossible for a single CAD drafting team to learn all these and deliver quality drawings.
On the other hand, outsourcing companies have multiple teams delivering particular industry designs and drafting services to their clients putting them in the forefront and more advantageous then their competitors. While taking up the projects, outsourcing companies are very clear about the probable time to finish the project and milestones are set initially.
Secondly, they charge their fees per hour for developing CAD drafting or charges per man-hour. The clients can get a clarity of what they can expect and by when will their work be delivering.
Furthermore, most of the times, the pilot projects and sample works delivered by outsourcing or CAD drafting consultants' experts show the charges, quality, their understanding of industry knowledge and market exposure.
Fundamentally, one can compare the quality delivered against fees of CAD consultants and time taken by them to finish the project or said milestones. If good, such consultants tend to shift engineering design firms or architectural design consultants' business models to a positive side.
4. Skill in using CAD with cost estimation software & other APIs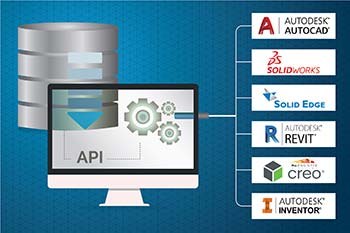 As manufacturing and construction processes are getting finer by the day, delivering designs only though 3D drawings and 2D drafts isn't enough. Building Contractors or sheet metal contractors and quantity surveyors are demanding to integrating traditional best practices of CAD with additional attributes like cost estimation, logical programing APIs and other such features.
Not all engineers or drafters are well-versed at using such APIs but an offshore drafting partner has the access to such diversified talents. Since they have continuous influx of a variety of projects be it duct work drafting, MEP drafting, or sheet metal enclosure for machines, fixtures or shop floor fabrication drawings.
Extracting BOMs and comparing them with the costs is critical and prone to errors when handled manually. Thus, software solutions and APIs of CAD programs come in very handy – something that CAD outsourcing companies can handle in an excellent manner.
Conclusion
Developing a CAD drafting and drawing team that has excellence in all the aforementioned four areas is a challenging task. For this very reason, it requires professional expertise and letting you focus on more productive tasks. While secondary tasks like drafting the product concept design or conceptual architectural designs are done by offshore professional, downstream activities such as 3D modeling, rendering, construction, or manufacturing, can easily be fixed in-house.