Point Cloud to BIM is the conversion of laser-scanned 3D data of structures or buildings to parametric 3D BIM models. This digital documentation of existing structures is critical in the absence of original measurements.
Restoration or renovation of heritage buildings or old constructions call for original drawings. The absence of detailed measurements poses serious challenges in creating survey-ready digital models. Point Cloud technology helps to digitally capture measurements, which are then imported into BIM systems. This digital representation is accessible across multiple platforms.
What is Point Cloud?
Point Cloud is a collection of dots, known as data points that are projected on a surface or area that is to be measured using a 3D laser scanner. These are then put together to form three-dimensional models or objects. A 3D BIM model is then created that replicates the existing condition of the building or structure. This is done using surface restoration plans and computer code tools for point cloud.
Point Cloud to BIM Modeling has gained increasing acceptance globally among survey companies, architectural firms and construction companies. The detailed and exhaustive as-built 3D models ease decision-making regarding policies or approvals. The final conversion into user-friendly formats such as. rcs, .rcp or .pts can easily be accessed through various BIM software such as Revit® and CAD.
Point Cloud to BIM conversion – Challenges and Solution
A leading construction/surveying company in the UK working on restoration and refurbishment of heritage and old buildings used Point Cloud to BIM to share BIM models with clients. Their efficiencies were challenged due to skill gap which showed up as improper scanning of specific areas.
A new project required preparation of an intelligent 3D model with LOD 300 for College Backyard Mechanical House. Looking for an experienced and reliable BIM service provider, the company partnered with Hitech CADD services to convert point cloud data to 3D models of architecture, structure and equipment spacing.
The input documents received as 3D scanned data in the file format of .rcs /.rcp were excessively heavy, needing many hours to download. A few of the scanned inputs were not clear and some important building data was missing due to improper scanning. The 360-degree image was also missing.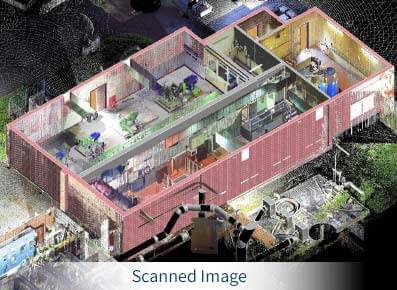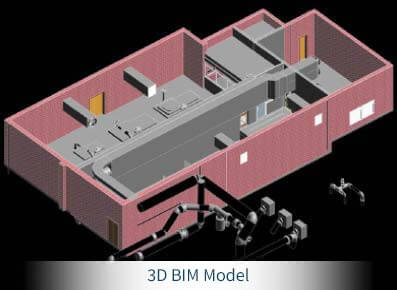 The 3D scanned images of college backyard mechanical house were converted into intelligent BIM with LOD 300
The Solution – Creating a 3D model from Point Cloud
The Hitech engineers imported the Point Cloud data by way of .rcs files into Autodesk® Revit. High system configuration, standardization of the workflow and increased bandwidth significantly reduced download time. Intelligent custom settings at +/- 10 mm accuracy were used to address the scanning inaccuracies and deliver a clash-free 3D architectural and structural BIM model.
The virtual parametric model enabled easy viewing of specific building components and better cost and schedule estimation. Import of the .rcs format into cloud-based BIM 360® software also allowed visibility across platforms, disciplines and locations, increasing transparency.
All this was achieved quickly and accurately within the timeframe of two weeks.
Why should you use Point Cloud to BIM modeling?
Traditional methods of modeling were time-consuming as well as costly. They always had the potential for manual errors and never guaranteed accurate results.
In comparison, Point Cloud to BIM modeling has proved to be a savior in the restoration and renovation of buildings of value and heritage. Virtual construction models, easily identify and resolve errors and issues during the initial stages of designing. This reduces the overall construction costs and ensure a smooth and seamless construction process.
Read also: Point Cloud Conversion to 3D Modeling: The Roadway as it is
Point Cloud Modeling or Scan to BIM is achieving rapid growth in the AEC sector. Construction companies and architectural firms can easily convert laser scans into extremely detailed and accurate 3D models. The conversion of point cloud to 3D model includes capturing the elements of structures or buildings by 3D laser scanners and putting them together to form an image.
The images are then converted into user-friendly .rcs, .rcp or .pts file formats so that stakeholders may easily access them globally via various BIM software such as Autodesk Revit, ArchiCAD etc. The secure cloud based software like BIM 360 also makes it accessible on various devices and platforms. This makes Point Cloud to BIM a must for all surveyors, architects and contractors.
Benefits of Converting Point Cloud to BIM
Accurate digital documentation of buildings of heritage value
Point Cloud to BIM's key benefits include providing ease in getting accurate digital documentation of old structures or buildings of heritage value. These digital documents can easily be stored for years. They may also be used in the future for various other restoration or renovation projects.
As-built 3D model creation with +/- 10 mm accuracy
An as-built 3D model is derived from the conversion of Point Cloud to BIM. This benefits all stakeholders of the AEC sector by improving the transparency, communication, and collaboration between them.
Effective decision making regarding norms/approvals
Point Cloud to BIM allows ease of identifying any alterations or renovations and assists in faster decisions regarding norms and approvals. It enables informed and better decision making as well as easy design creation as per the norms and approvals of the government agencies. Whether it is upgrading the fire or safety systems or adhering to the new BIM standards, the benefits are endless.
Reliable and assured modeling quality
A BIM model that is generated from the scanned or Point cloud data is reliable & of assured quality. Laser scans converted to the 3D model give an extremely comprehensive picture of the existing building structure. From the parts like beams, columns, doors, MEP components to remodel and the existing design, a 3D BIM contains detailed information. This ensures accuracy leading to reduction in complications or unexpected issues during the final construction phase.
Easy access across various platforms globally
The user-friendly formats of .rcs and .rcp can be accessed on various platforms on various devices. This makes it easier for people all around the world to access the data or the model. They can easily give their suggestions or feedback and make modifications on the same. Any changes are automatically updated in real-time for all stakeholders related to the restoration or renovation project.
Also read: Potential of 4D & 5D BIM in Construction Projects
Application of Point Cloud to BIM Modeling using Revit and CAD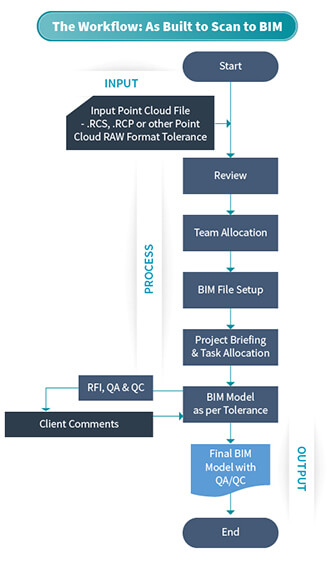 The data points in Point Cloud can be directly rendered to 3D in Revit® as well as AutoCAD®. Since Revit, as well as CAD, are compatible with Point Cloud, conversions become easy. Point of structures can be easily linked to Revit or CAD in the required format.
If an old building of heritage needs renovation without demolition, creating 3D models using Revit or CAD are the two most popular alternatives. The architectural, structural and MEP 3D models includes detailed information about all the components. This ensures a clash-free smooth construction process throughout the construction life cycle.
Real-time updates of the construction site without actually having to visit it is one of the key features of linking point cloud data to Revit. It creates native Revit geometry from point cloud data while recognizing and placing components like walls, columns pipes, ductwork, etc. The Revit model can be updated as and when required. Similarly, point cloud can be linked to CAD as well.
Conclusion
The integration of 3D point cloud with BIM proves extremely beneficial in facilitating project documentation and creating libraries. It offers contractors the accurate tools required for improving project performance.
Renovating just the damaged parts of an existing structure saves the client cost while providing ease of procuring any licenses necessary. Any up-gradation as per the new BIM standards or change in MEP systems can be easily viewed. The upgraded model can further be used for Virtual tours and proves to be a powerful marketing tool.
It has become imperative for all stakeholders of the AEC sector to adopt these new trends to sustain and grow in the competitive market today. With the new technology of using Drones and LiDAR in the future, the prospects for growth in the AEC industry are limitless.
Point Cloud to BIM – Truly a trend transforming the AEC industry!